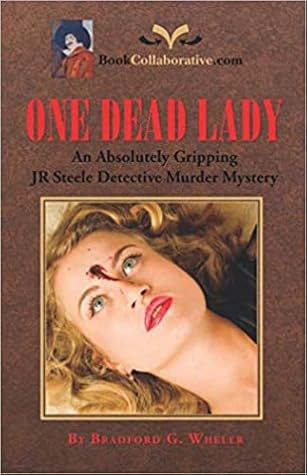 A fresh new detective mystery series – JR Steele arrives!
Author Bradford G Wheler earned his degrees in Civil and Environmental Engineering from Cornell University in Ithaca, NY as well as an MBA degree from Fordham University in New York, NY, and has served the public on boards of colleges and Chambers of Commerce. He was the CEO, President and Co-owner of Allen Electric Company until he retired, and now he spends his time transferring his ideas and experiences and thoughts and imagination to a line of very well received books.
Bradford is fast becoming a readers' favorite for his variety of books, especially Cornell Archaeological Mystery Thrillers, and now he enters a new domain – a series he is introducing as the JR Steele Detective Murder Mysteries, of which ONE DEAD LADY is the initial volume.
Maintaining his ability to capture and retain the reader's attention from page one to the end, the story opens with the following: 'I opened one eye slowly. I looked around slowly. I was in my place, that was good. I opened my other eye and looked around more. I was alone, that was good. My head didn't feel too bad. Little by little I thought about last night. It was given I drank too much last night but there wasn't a strange woman in my bed, and I didn't have to search my mind for her name. OK, a good start to a Saturday morning…I don't have many clients and when one is brutally murdered, I guess it's a reasonable excuse to drink too much. She was young at least compared to me. She did some dumb things, but I shouldn't have let her die.' And so we meet the inimitable JR Steele – a semi-retired private investigator – and the story begins.
The plot – 'A seventeen-year-old case comes back to haunt JR Steele, a semi-retired private investigator. The Army veteran and former police detective has been working as a gunsmith, trying to get by. The blonde who walked into the gun shop yesterday asking for his help is now dead. Death and destruction force him back in the game. But is he still up to the task? Powerful and ruthless people with connections way beyond Steele's Florida county don't want what really happened seventeen years ago to see the light of day and they are willing to kill to stop it. Steele is spending as much time trying to keep himself and the dead woman's gorgeous cyber-smart daughter alive as he is solving this riveting case. Steele is determined to get to the bottom of things. The clues are there somewhere — he just needs to uncover them without getting killed. But the body count keeps mounting. The dead blonde has awakened a sleeping monster who employs merciless killers to keep old secrets buried. Fortunately, Steele has friends of his own that aren't afraid to operate on the gray side of the law.'
This is one fine, very fast paced novel that hopefully begins an ongoing series with this terrific new detective. Highly recommended.
Editor's note: This review has been published with the permission of Grady Harp. Like what you read? Subscribe to the SFRB's free daily email notice so you can be up-to-date on our latest articles. Scroll up this page to the sign-up field on your right.