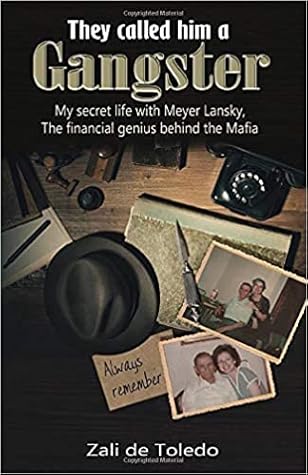 The other side of the coin
Multi lingual Israeli author Zali de Toledo was born in Turkey and has a remarkable in depth background. Her experiences include Manager of the Talma Art Gallery, Public Relations Manager of the Israel Philharmonic Orchestra, Cultural and Inter-religious Affairs Attaché in Turkey, and Chairperson of the Association of Turkish Jews in Israel. She now is the Turkish Media Researcher for the Middle East Media Research Institute, MEMRI. THEY CALLED HIM A GANGSTER is her debut novel.
Learning about the lives of people who have been deemed outlaws but whose complete character reveals laudable aspects is a fascinating second look and opinion changer. In this memorable 'memoir' the complete life of Meyer Lansky is revealed in a manner that creates an 'aha' moment. Lansky was the accountant for the Mafia in New York, a figure whose importance was unveiled in the media as a major 'gangster affiliate.' What Zali reveals is the tender side of that 'gangster.'
Opening her story with her own history as a child in Turkey and her eventual move to Israel at age 17 – an additive background indeed for understanding her story - Zali continues with her initial meeting Meyer Lansky, a man forty years her senior, and the love affair that developed. She shares the reason for writing this book as follows: 'I realized that this man [Meyer Lansky] whom I loved and respected and to whom I owe so much, was deserving of a personal legacy that showed a side of him rarely viewed by the public. The media thrived on blaming him for all the sins of the world. Yet, the man I knew was the antithesis of this character defamation.
Zali's story is shared with photographs and letters and mementoes of a relationship that soared: the writing style is personal and winning, and the aura of her commitment to rectify the reputation of Meyer Lansky makes this biography memorable on many levels. Fascinating and a pleasure to read!
Editor's note:
This review has been published with the permission of Grady Harp. Like what you read? Subscribe to the
SFRB's free daily email notice so you can be up-to-date on our latest articles. Scroll up this page to the sign-up field on your right.