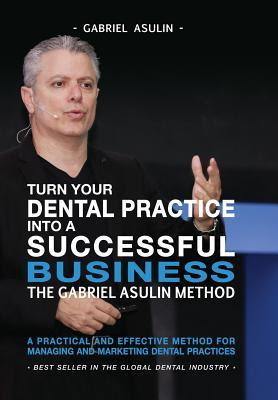 'Aesthetic treatment is a good field that can certainly be complementary to dentistry'
Israeli author Gabriel Asulin is the titular head of 'The Gabriel Asulin Method - an international expert in the management and marketing of dental clinics. His books available in Spanish, Russian, Hebrew and English and are bestsellers in the global dentistry market. His area of expertise - the field of marketing and promoting dental clinics worldwide, having consulted for hundreds of dental clinics in China, Colombia, Mexico, Russia, Bulgaria, Israel, the Dominican Republic and the US.
Gabriel introduces his valuable book of business recommendations in state 'Growing competition in the dental industry has created new rules for the game: it is no longer enough to be a professional dentist in order to succeed financially. Today marketing, promotion, and effective management of a practice are essential conditions for its existence and success. A dental practice is a business like any other, and as you will discover in this book, management and marketing are complex matters that include a wide variety of aspects. These aspects need to be applied in order to make your dental practice successful financially.'
Reading this book is comfortable in that Gabriel addresses the personal side of marketing well. – attracting and retaining clients, the importance of the behavior and courteous and warm atmosphere of the dental office, self-marketing, expanding or relocating a practice successfully, how to deal with demanding clients and how to maximize the earning potential of the practice. Some apparently simple but important suggestion are offered, such as 'Why don't you use a nametag for yourself and the entire practice staff? It is easier for customers to communicate with people whose names they know and connect with them. By the way, don't assume that customers remember your name and the names of the other staff. On the other hand, you can be sure that they feel uncomfortable asking. Therefore, it is important that each member of the practice staff have a tag with their name on the left pocket of their uniform.'
Business oriented, yes, but the manner in which Gabriel presents his instruction is humanistic, accessible, patient oriented and immensely helpful.
Editor's note: This review has been published with the permission of Grady Harp. Like what you read? Subscribe to the SFRB's free daily email notice so you can be up-to-date on our latest articles. Scroll up this page to the sign-up field on your right.