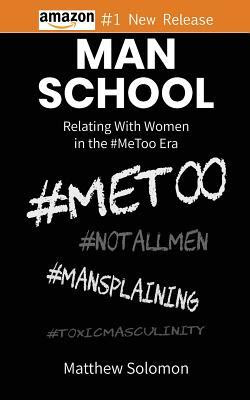 'Everyone, every single person, has the experience of feeling heard, loved and understood'
Los Angeles author/filmmaker Matthew Solomon, also known as "The Coach for the Modern Soul," has spent most of his adult life studying effective communication, relationships, Eastern philosophies, Kabbalah, martial arts, Tantra, yoga and more. After teaching Kenpo Karate for 10 years, and coaching one of the most rigorous leadership training and development programs in the world, he was inspired to share his gifts and knowledge publicly.
While most everyone has heard or seen the hashtag #MeToo but a short definition of it is appropriate to start this book: 'In the coverage of #MeToo, there has been widespread discussion about the best way for sufferers of sexual abuse or harassment to stop what is happening to them at work. There is general agreement that a lack of effective reporting options is a major factor that drives unchecked sexual misconduct in the workplace.'
Where does Matthew take us on this journey to understanding and equality? 'In looking at sex, it is important to start with the fact that you probably know very little at this point. It is not your fault. The truth is, we have been given next to no information or training when it comes to sex and intimacy. Most of us bounce around from partner to partner, not really knowing what to do. We have seen things in movies and online, but the fictitious depiction of the sex act is not realistic for what is pleasurable, or even do-able, for most. Generally, our approach is to find someone we are at least attracted-enough to, and then rub our parts together until (hopefully) we both orgasm, and we are done. It is exciting at first because it is new. Then, we fall into a routine, and gradually, over time, the sex stops, the intimacy stops, and the relationship dies. Unfortunately, like most of the really important things, we are not taught how to be intimate, how to really have sex, how to enjoy sex, or how to even navigate the ebbs and flows of relationships.'
He goes onto explain that 'Women have had enough, are fed up and have found their voice. If you have not been aware of their societal struggles up until now, this may have blind-sided you. The #metoo movement, the #timesup movement, and the sarcastic hash-tag #notallmen have been born from this shift. Because I know that there are men who do not know and/or do not understand these movements, I will explain: #MeToo was adopted as the hashtag of women coming out to share their stories of rape, sexual harassment, manipulation, molestation and more by family members, trusted adults, random attackers, bosses, co-workers, etc. With social media giving a broad audience to women sharing their experiences following the "grab 'em by the p****y" statements of Donald Trump, and continuing into other high-profile cases involving a growing list of celebrities, women who were voicing their fears and experiences, initially found unifying power in this. A great many men simply had no idea that all of this even existed in such great numbers. Personally, even knowing how prevalent these occurrences are, seeing my entire Facebook feed filled with #metoo posts stopped me in my tracks as well, and brought about so much sadness. Pretty much every single woman I am friends with online posted a #metoo experience.
Read this book and understand, appreciate and change – Matthew Solomon is a guru – and a most welcome one!
Editor's note: This review has been published with the permission of Grady Harp. Like what you read? Subscribe to the SFRB's free daily email notice so you can be up-to-date on our latest articles. Scroll up this page to the sign-up field on your right.