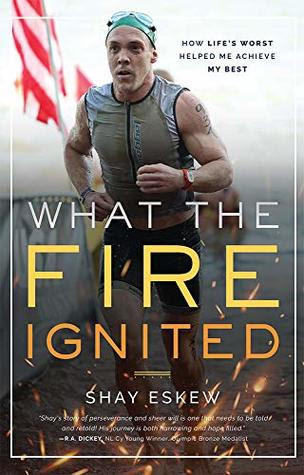 'Embrace all that life throws at you.'
Tennessee author Shay Eskew is many things – a bear research biologist and bear attack survivor,
a global motivational speaker, an All American / All World ranked triathlete, a burn survivor with scars over 65% of his body from at an event age of 8 (Shay was set afire by a neighbor's child and credited with saving the life of his 7 year old friend), survivor of over 35 surgeries the last 36 years – and of course as most people know Shay is a 4x IRONMAN, 4x member of Team USA, 25x IRONMAN 70.3, ranked top 1% of IRONMAN 70.3 worldwide, and has competed in 10 triathlon World Championships in 7 countries on 4 continents. Shay received a BS (cum laude) and an MBA (finance) from the University of Tennessee. This is his debut publication.
WHAT THE FIRE IGNITED is clearly one of the most inspirational books available today. In his Introduction he states, 'Through the many setbacks I've experienced for more than 40 years, what I've learned is that every obstacle is a great opportunity in disguise. Adversity defines champions. I've experienced firsthand how grit, perseverance, raw determination, and the refusal to quit can bury any obstacle. When situations get challenging and on the verge of a crisis, this is when I shine. I've programmed my mind to block out the noise and focus on the task at hand. After a lifetime of overcoming unfathomable situations, my success can be boiled down to three strategies: Training my brain, Shaping my reality, and Doing the daily things. I constantly look for people to tell me I can't do something so I can prove them wrong. I hope you're inspired to approach your life in the same way after reading this book. I hope you realize you have the strength inside you to rejoice in your sufferings, even in the most unimaginable ones. Adversity is constantly preparing you for something awesome, but you must have the faith to keep pushing forward even when everything inside you says to quit.'
For the soul enrichment Shay provides in this book, take the time to read it and then share it with those you love. The provided synopsis outlines the course of the history: 'We all face obstacles. Whether physical, spiritual, emotional, or financial, we are all working to overcome a roadblock ahead of us. When Shay Eskew's roadblock - a splash of gasoline and a lit match that set his body ablaze came as a child, he had the choice to either succumb to his injuries or to rise above them. In What the Fire Ignited: How Life's Worst Helped Me Achieve My Best, Shay shares the trials and tribulations he was forced to face while recovering from his burns and reclaiming his life as an athlete. Despite being told to give up on sports, Shay began training for and competing in IRONMAN triathlons. By sharing his story, Shay hopes to help those struggling with life to realize the greatest tragedies are often our greatest blessings if we have the faith to stay the course. We are all facing something; we all have the odds stacked against us in some way. In What the Fire Ignited, readers should take comfort in knowing others have been there and not only survived, but thrived.'
Highly Recommended for all readers – especially those with challenges of every degree.
Editor's note: This review has been published with the permission of Grady Harp. Like what you read? Subscribe to the SFRB's free daily email notice so you can be up-to-date on our latest articles. Scroll up this page to the sign-up field on your right.