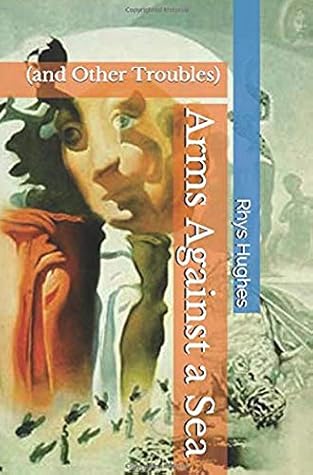 A literary smorgasbord!
Handsome Welsh writer Rhys Hughes possesses on of the most richly imaginative minds of any contemporary writer. His ability to create stories that at first appear grounded in realism only to explode into fantasy is matched only by his own creations where surrealism is written to be read as fact, as the development of a cast of characters and an idea are so completely credible that his eventual hints or injections of reality take the reader totally by surprise. But while many writers are able to delve into the interstices of fantasy fiction and populate their pages with created names of people and places that eventually tire the reader, Hughes instead remains the articulate wordsmith: no matter the story, the quality of writing is so fine that simply turning each page is a pleasure for the mind. He currently lives in Swansea, UK.
The short stories - a tough medium that Rhys has not only conquered but also embellished and enhanced as a portal of literary entertainment – contained in this new volume dazzle. The themes are varied and always interesting and enriching. In one story the breadth of his talent is immediately evident: SILKY SALATHIEL – 'It turns out that reincarnation is true and that when we die we are reborn. I'm glad the mystery has been cleared up, but the consequences of rebirth aren't always nice. I'll tell you my own story as a demonstration of the fact. It started when I heard about a cat called Salathiel. He had nine lives, of course, and he used them up one by one. That's what cats do and in this regard he was no different from any other feline, but a weird thing happened to his lost lives. They were all reincarnated separately. Usually the 'nine live' of a cat are just a figure of speech but in this case they turned out to be real lives that started again from a new birth. Each of the lives became a different animal, and one of those animals was a man, a human being. That man grew up filled with wanderlust and he developed an interest in philosophy and questions of life and death. He actually became sort of a dilettante of mysticism…' From this entry the myriad facets of Rhys' imagination blossom – and that is only one of the twenty original stories that fill this superb book.
Reading Rhys Hughes is a leisurely process: one feel's that reading with too much speed the goodies may slip away unnoticed. He challenges our wit, our ability to imagine, our intellect and our table of entertainment. He is a complete pleasure.
Editor's note:
This review has been published with the permission of Grady Harp. Like what you read? Subscribe to the
SFRB's free daily email notice so you can be up-to-date on our latest articles. Scroll up this page to the sign-up field on your right.