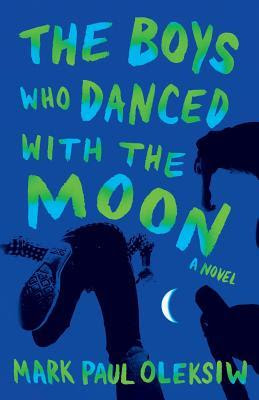 'Many horrors fester beneath night's shadowy cloak to be exposed by the morning sun'
Canadian author Mark Paul Oleksiw earned his degree from McGill University and began his writing career with this fine coming of age novel THE BOYS WHO DANCED WITH THE MOON that reflects his fascination with offbeat characters, hip bands and their music, and the challenges of growing up and the search for identity. Mark has subsequently published MUNCHING ON THE SUN. He lives in Montreal.
Reflecting his love for music Mark opens his tale with an Overture that probes the tragedy of a boy's drowning and the thoughts of one Dr. Eva Gardner – 'Her training taught her that the true horror was not the sight of bloody or torn bodies. In her world, horror was measured in the number of tears in a teenage soul.' And gradually, in exquisitely lyrical prose, the seed of the story blossoms as we discover that three boys were dancing 'neath the moon – one drowned, one near drowned, and one terrified to face the experience just visited…Kiran Wells – whose story this immensely involving book is.
Briefly, the plot unravels as follows: 'Kiran Wells, a mid-30's professional living on the West Coast, thought he was safe until an anonymous letter arrives from his hometown. Its only contents- an old newspaper clipping about a drowning twenty years earlier. Leaving career and friends behind, Kiran returns to the place of his youth to find the conjurer of his past. Kiran is a quiet and shy teenager with a taste for alternative music growing up in a suburban northern town during the mid-80's. The arrival of two students, the confident and rebellious Marius and the naive, cloak-wearing Moony, awaken Kiran. On the eve of graduation, fate turns the volume off in Kiran's world and his memory fades to black. Returning to his hometown, Kiran is forced to confront the demons that haunt him. His future depends on whatever hope he has left and the life or death decision he must ultimately make.'
Related in near poetic style, this story signals the arrival of a very fine author, one who not only spins an excellent coming of age experience but also tells it in memorable, yes, quotable, lines on every page. Atmospheric, sensitive and involving, THE BOYS WHO DANCED WITH THE MOON lingers in the mind long after the book is finished. Having opened with an Overture, the book closes with an Epilogue that is a fine poem. Mark Paul Oleksiw is an important new writer on the literary scene. Highly Recommended.
Editor's note:
This review has been published with the permission of Grady Harp. Like what you read? Subscribe to the
SFRB
's free daily email notice so you can be up-to-date on our latest articles. Scroll up this page to the sign-up field on your right.
Two kings. Two princes. One queen. The true story of five aristocrats separated by time, culture, and circumstance -- all of them bound to the United States by accidents of history and left to hope for a tomorrow better than today. Prepare for a vision of the American Dream as few others have ever seen it.