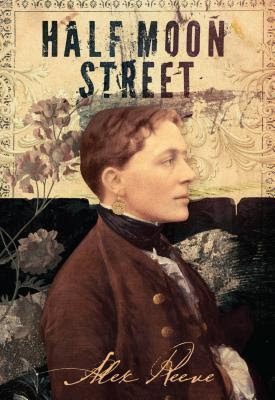 A brilliantly unique Victorian mystery novel
British author Alex Reeve is a University lecturer, having spent part of his working career teaching English as a second language in Paris. HALF MOON STREET is his debut novel and it has already created a niche for him among significant writers of the day.
From the book's back cover the outlined plot is shared: 'Like half the young men in London, Leo Stanhope is rich in dreams but poor of pocket. He dreams of making a home with Maria, the woman he loves. He dreams of a life far from the blood and stink of the morgue where he works. And he dreams of a world where no one cares what is tucked between his legs. Because Leo has a secret. And in Queen Victoria's England, that secret could get him locked up for life…if nobody kills him first. But it's a prostitute who's killed instead, and Leo who becomes the prime suspect. Desperate to clear his name and find the murderer, Leo is forced to sacrifice his books, his job, his home. Will he give up his secret? How much is justice worth? You thought "trans" was a 21st century construct? Think again.'
Swell as that synopsis is, it doesn't begin to reveal the scope of this exceptionally fine novel. Alex Reeve knows how to draw the reader into this Victorian mystery, as is evident in the opening paragraphs: 'Mr. Hurst washed the blood from his hands in the sink, and dried them, leaving pink smears on the towel. It was a bone-cold January day and I had nowhere soft to get any warmth. The examination room was in the bowels of the hospital and tiled on all four walls, the only natural light coming from high, frosted windows level with the pavement outside. Mr. Hurst didn't notice the chill, having greater mass than me and doubtless retaining heat, much like a chimneybreast, and being further warmed by the inner glow of his renown…His specialism was the washed-up, pushed-off, dug-up and poisoned of London, all the poor wretches whose cause of death was considered suspicious. He cut them open and studied their innards, and I sewed them up as good as new, and wrote down the findings for the police.'
And that flavor of prose extends on every page of this bracing book. Leo Stanhope lives as a man, with a gender physicality of a woman, and that aspect of his character plays a major role in this mystery. It is refreshing to read a novel about transgender persons in Victorian England, related in a manner that makes the main character Leo a full person rather than an oddity. Alex Reeve has accomplished a feat that will likely develop further, as this is Book 1 of a planned series concerning Leo Stanhope.
A marvelous read, this, and one that more than likely (or at least should) become a popular best seller. Highly Recommended.
Editor's note:
This review has been published with the permission of Grady Harp. Like what you read? Subscribe to the
SFRB
's free daily email notice so you can be up-to-date on our latest articles. Scroll up this page to the sign-up field on your right.
Two kings. Two princes. One queen. The true story of five aristocrats separated by time, culture, and circumstance -- all of them bound to the United States by accidents of history and left to hope for a tomorrow better than today. Prepare for a vision of the American Dream as few others have ever seen it.