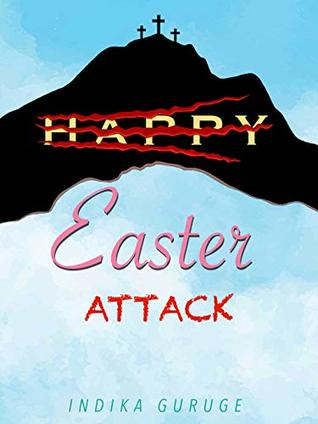 'Bodies of the two girls who went missing have been identified'
Sri Lanka author Indika Guruge earned his Bachelor of Commerce in Business Management at Royal College and was an Honors graduate of the National University Singapore. The handsome young man now works in real estate and property development. He is a director of The Guruge Group of Companies, a prominent outfit of property development and amusement parks in Sri Lanka, winning awards for his talent and services. His published novels to date are KARMA NEMESIS, ORPHAN GIRL, HOUSE MAID, FOREVER YOUNG, RASHIMI'S STORY, CHILD SOLDIERS, and now EASTER ATTACK.
To make the nidus of this thriller more poignant, Indika places a reflection in his Epilogue – 'The Easter bombing - 21 April 2019 – was the second biggest attack by the terrorists after the World Trade Center bombing in New York. The number killed in Sri Lanka puts the bombings on a par with other high-profile terrorist atrocities since the September 11th , the single deadliest attack in history.' And with that jolting reminder of reality, Indika opens his new novel with a description of the preparation by Rayiys of Mohammed Hashim, a former Christian extremist named Jonathan Shockman, for a terrorist attack and the murder of a nine-year-old girl, Enoka Signore. As Mohammed states, 'I don't know why my master enjoys torturing young virgins while we are watching, but pain is good – when I am dead with my beliefs of my new God – I will have all the pleasures I wish.' The opening chapter is brutally real, preparing us for the atrocity that follows.
Indika's reader-friendly style of writing is evident as he introduces FBI agent Anna Perera who brings a sense of balance to the story. Opening with her hope for career advancement with an involvement in ending a drug cartel that goes wrong, and is sent on a 'vacation' to Sri Lanka – and the rest of the story proceeds to the Easter Attack with credible brilliance.
Another superb novel from Indika Guruge, an important author, worthy of our attention.
Editor's note:
This review has been published with the permission of Grady Harp. Like what you read? Subscribe to the
SFRB
's free daily email notice so you can be up-to-date on our latest articles. Scroll up this page to the sign-up field on your right.
Two kings. Two princes. One queen. The true story of five aristocrats separated by time, culture, and circumstance -- all of them bound to the United States by accidents of history and left to hope for a tomorrow better than today. Prepare for a vision of the American Dream as few others have ever seen it.