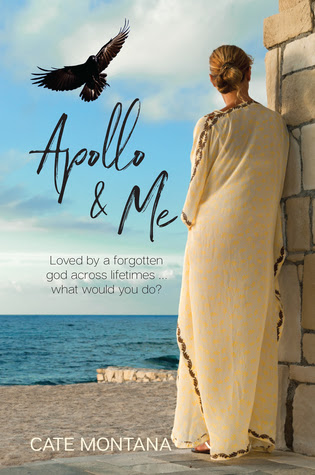 'Those who dare to touch the gods suffer both heaven and hell' – emphasis, 'Heaven!'
Pacific Northwest author and evolutionary activist Cate Montana earned her degree in Humanistic Psychology and has devoted her career, and indeed her life, as an advocate of actualizing human potential to stimulate people to awaken to the possibilities of a richer, more fulfilled life. Her blend of psychology, human consciousness, neurochemistry and quantum physics makes her an in demand inspirational speaker. Add to these aspects an extraordinary sense of humor and the result is an author who succeeds on every plane onto which she steps.
Along with her fine books of a scientific nature, Cate now adds a novel that celebrates her philosophy of life while adding a much needed dimension - the status of the aging population's abilities and dreams - and out comes APOLLO & ME. Rich in sparkling humor as well as a touch of spirituality, this novel is a fireworks explosion of love 'at a certain age' – that age too many consider a stagnant, end of the line, insignificant enforced ennui. She has created a story that is not only exceptionally entertaining, it is also an homage to feminism and a very fine 'you can do this' change of attitude of possibilities for those of the Golden Years!
The main character Kathryn Adams is closely aligned with Cate Montana's personality – a writer open to the possibilities of the improbable romance with an ancient God. Or as the synopsis well details, 'American author Kathryn Adams has a last-minute plan: chill out on a Greek island and recover from her latest book launch. Apollo, the devastatingly handsome ancient Greek god of wisdom and light, has an agenda he's been cooking up for over a thousand years: Come back to Earth, obtain redemption for his betrayal of Kathryn in her previous life as a Delphic temple priestess, rekindle their love and get her to join forces with him in a desperate gamble to save humanity from the evil doomsday plot of one of his fellow gods. A cross-time tale of deathless love, magic and sexual healing, Apollo & Me explodes the myths around older women and sex, the relationship between the gods and man, man and woman, and the very nature of the world itself.'
Delivered with an ample dollop of irresistible humor, this is a romance to celebrate – and possibly emulate, with a distinct number of variations. Pure delight pours out on every page, along with a keen sense of heightened spirituality. Highly Recommended.
Editor's note:
This review has been published with the permission of Grady Harp. Like what you read? Subscribe to the
SFRB
's free daily email notice so you can be up-to-date on our latest articles. Scroll up this page to the sign-up field on your right.
Two kings. Two princes. One queen. The true story of five aristocrats separated by time, culture, and circumstance -- all of them bound to the United States by accidents of history and left to hope for a tomorrow better than today. Prepare for a vision of the American Dream as few others have ever seen it.