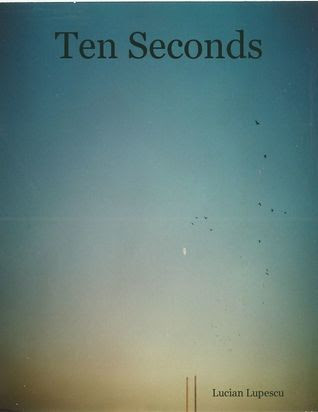 It only takes a moment – savoring the mysteries of being
Romanian author Lucian Lupescu is a freelance translator, providing his services in English, French, Italian and Romanian. He is a proponent of flash fiction and uses that propinquity in this fine book TEN SECONDS. His other published book, IMPROVING ANKLE AND KNEE JOINT STABILITY, suggests his spectrum of interests is broad.
Ten shared moments – most in flash fiction format but adding one short story – opens a portal for contemporary times: everything now is focused on instant gratification, both in daily life style with Alexa leading the mind away from communicating with each other, texting, the omnipresent cell phone, streaming news or information or visual entertainment, fast food now delivered with an app, etc. In this rushed existence Lucian bridges the mental gap in proving that the written word, carefully articulated, still remains a viable connection to the greater human mind world.
In these superb stories Lucian accompanies us from birth to death by pausing for a moment to gel the magic of being. His opening flash fiction, ONSET, describes in utero pre-existence as well as any writer to date: ' In the beginning there was warm wetness, You move your limbs slowly, in a continuous dream-like state, in which you feel you belong, where memory is indistinguishable from reality, You feel safe, secure. Nourished. At home. A home that can be smothering, but you don't perceive that right now. You hear muffled sounds, words that might appear as déjà entendu much later on, in your day night fancies. Startlingly, you feel your swathing cocoon and your tranquil, languid existence are about to be brought to naught. So much pressure, on your head, on your body. The bright light almost blinds you. The extremely loud noises almost deafen you. There is confusion. Fear. And cold. So cold. You will not remember any of this, even though you will relive it again and again, until the end.'
Moving from that sensitive birthing Lucian shines lights on siblings with arguing parents, threatening games youngsters play, loss of pets, happenstance encounters and their impact, thoughts during dysfunctional intercourse, the significance of love tokens, thoughts on retirement and aging and death – each rendered with few words that convey significant moments in the life process.
Readers alert! Lucian Lupescu is a burgeoning artist whose work demands our attention. Highly Recommended.
Editor's note:
This review has been published with the permission of Grady Harp. Like what you read? Subscribe to the
SFRB
's free daily email notice so you can be up-to-date on our latest articles. Scroll up this page to the sign-up field on your right.
Two kings. Two princes. One queen. The true story of five aristocrats separated by time, culture, and circumstance -- all of them bound to the United States by accidents of history and left to hope for a tomorrow better than today. Prepare for a vision of the American Dream as few others have ever seen it.