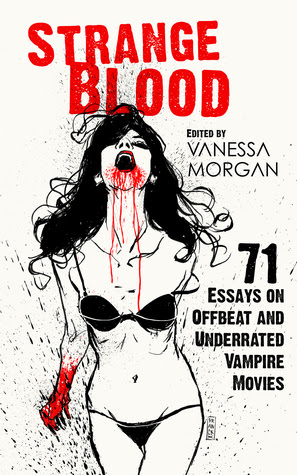 Stepping into the unknown
Author/screenwriter Vanessa Morgan lives in Belgium and is best known for her terrifying mysteries - some of which have become movies - but she is also a very sensitive writer about animals, and cats in particular (witness, AVALON: A HEART WARMING TRUE CAT STORY, NEXT TO HER and CLOWDERS). In this book Vanessa once again turns to reportage (as in her very successful WHEN ANIMALS ATTACK book on horror movies) as she has assembled essays and facts about very bizarre vampire movies from around the world, films that date from the past century to the present. She has gathered essays from a cadre of important international writers who make s big impression on the subject of vampire movies.
Think you know about the spectrum of vampire tales? Think again, because this fascinating book reveals all manner of 'forms ' the hunger for blood has taken. An excerpt from J. Luis Rivera's overview of the 1995 THE ADDICTION suggest the gamut: 'Through the ages, vampirism in fiction has served as an allegory to discuss a wide array of issues. From the ancient cautionary tales that were worked into the original vampire legends, to the Victorian morality of Bram Stoker's classic novel Dracula, the vampire has been used as a symbol of the dangerous and the forbidden. In cinema, it has not been any different, and so we have seen the vampire serve as a symbol of everything from sexuality to disease. In Abel Ferrara's 1995 film, The Addiction, vampirism is effectively used as an allegory for drug addiction; however, that's only the tip of the iceberg, as Ferrara uses the vampire myth to create something beyond the superficial similarities between drug taking and blood drinking. The Addiction is Ferrara's exploration of the nature of evil.'
Using this mode of sharing works by informed experts accompanied by many photographs from the films discussed we discover the myriad (and unfamiliar) forms of vampirism that cinema has created. Curiosity may be the initial reason for exploring this book, but once the book is opened it becomes a fantastic journey into the strange realm of blood thirst! Highly recommended.
Editor's note:
This review has been published with the permission of Grady Harp. Like what you read? Subscribe to the
SFRB
's free daily email notice so you can be up-to-date on our latest articles. Scroll up this page to the sign-up field on your right.
Two kings. Two princes. One queen. The true story of five aristocrats separated by time, culture, and circumstance -- all of them bound to the United States by accidents of history and left to hope for a tomorrow better than today. Prepare for a vision of the American Dream as few others have ever seen it.