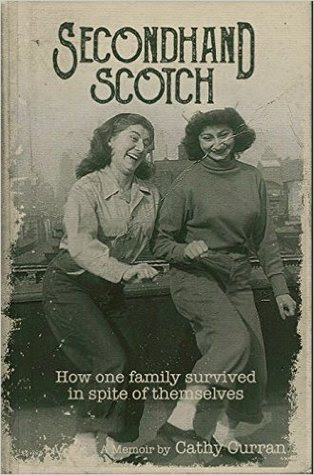 'My family was split in half like the North and South, engaged in our own civil war.'
New Jersey author Cathy Curran is a baby boomer who 'graduated from the school of Do-As-I-Say-Not-As-I-Do and went on to study at the University of What's-Your-Problem.' SECONDHAND SCOTCH is her debt novel – a memoir of a life fully lived – and still dancing!
From the opening lines of this memorable memoir Cathy Curran demonstrates she has not only the capacity for an exacting memory but also the gift of storytelling that glues the reader to this hilarious and torching tale. An aperitif is offered as the book opens – 'I was born wanting to live, but I lived wanting to die, and now that most of my life is gone, I want to live again. I'm the second of nine children, a baby boomer—old enough to remember adjusting the wire hanger on my father's television while doubling as his human remote control. By age nine I could chew gum, change diapers, and sing "Hello, Dolly" all at once. I was quickly pegged as the family caregiver, and there was no escaping my duties. After all, my father was the family czar who thought nothing of curing me with a good dose of medicine, whether I needed it or not. So by the time I was little more than ten, my spirit was chiseled down to its bones, and I wished that I had never been born. I appeared to be an average, lower class, all-American kid, but I was stuck in a Russian time warp without a Cossack's hat to keep my head warm. In school, when the air raid bell sounded, all of the children scrambled beneath their desks; and while they were hiding from the Russians, I was hiding from myself. As an adult, I was expected to maintain my role as family caregiver, even as I created and cared for my own family. I stayed the course with uncommon devotion until I was forty-six years old—that's when my father disowned me for a disagreement I had with my older sister. It wasn't just the dispute that got me canned; it was because I finally stood up for myself in a way that was long overdue, and by doing so, I had stepped out of the role my father had assigned me. It never mattered to Dad whether or not my sister was right. She was one of Dad's favored children, and that was the deciding factor in every squabble we had throughout our lives. My family was everything to me. Being rejected devastated me to the core, but in order to be accepted, I'd have to jump back into the box where I would always be a loser at the game my father and sister played. If I wasn't willing to do that, I could just sit at the curb and wait to be scooped up by the shit-wagon. I crawled into a dark corner, fetal, the way I did as a child, so no one would see my sadness. For the longest time I was numb and hollow until a few simple words, evolved from a poem by Henry David Thoreau, swooped into my void and echoed: "Most men lead lives of quiet desperation and go to the grave with the song still in them." The words funneled through a familiar voice, one that I'd heard only in my head, one that never shouted or cursed like my father. But this time it bellowed, making me feel as though I'd been rapped on the side of my head by Dad's huge hand. I was stunned into thinking: If I don't stand up for myself, I might as well die. Throughout my childhood my older sister audibly wished that I'd drop dead, and the words would shoot off her tongue with passion and contempt. I adored her as much as I loved my father, and somewhere along the way I embraced their sentiments of me. I believed that I just wasn't good enough for this world. Since I never had the courage to do myself in, I languished in my subservient role for almost half a century before finally realizing that my flexibility would never satisfy my sister, nor would it ever save me from my father's injustice. From as far back as my memory stretches, my life was steeped in turmoil. What else could I expect? A high-strung man who thrived on controversy raised me. Joe Low was no graceful butterfly; he came flapping at me like a three-hundred-pound barfly leaving behind a path of destruction.'
Cathy's succinct synopsis distills the 'spirits' of this terrific book: 'When your grandparents make bathtub gin and go shopping with funny money, and your dad flaunts his degree from the school of hard knocks, you grow up learning that "life ain't no picnic." These lessons are handed down to Cathy Curran by Eastern European immigrants who learned how to survive caring little for aesthetics. Lucky for Curran, her mother is a gentle soul with a dry wit. Lillian Low's homespun values--people come in all flavors just like ice cream--bring joy and humor into the Low house. When restless Joe Low ditches one suburb for another just because he wants a do-over, Lillian tells him, "How many do you need? Don't you know that wherever you go, you've got to take yourself with you?" Along for the ride is the colorful Low clan, who turn up to celebrate the arrival of Joe and Lillian's army of kids. They eat, drink, sing, Joe gets plastered, and all too often scotch-fired arguments lead to some good old-fashioned fistfights, which are immediately forgiven with an unspoken rule--shut up and forget it, then it all gets swept under the rug. But when Curran pulls up the carpet, pandemonium emerges from hell with a vengeance. Through the vision of a sensitive young girl with a wickedly funny voice, "Secondhand Scotch" uncorks some harsh realities, but never ceases to warm and entertain.'
A well-scribed memoir from a lady with a hefty dose of talent! Read and Enjoy.
Editor's note:
This review has been published with the permission of Grady Harp. Like what you read? Subscribe to the
SFRB's free daily email notice so you can be up-to-date on our latest articles. Scroll up this page to the sign-up field on your right.