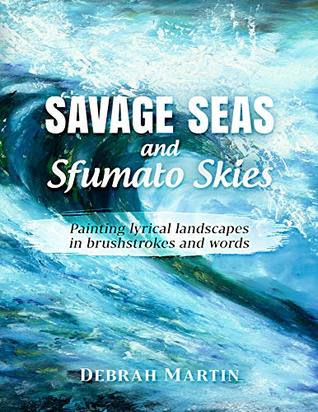 Visual and poetic paths to landscape art
Popular British author DB Martin/Debrah Martin aka Lily Stuart is widowed, has two daughters and moved to Wantage, Oxfordshire in 2013, describing it as the friendliest place she's ever lived. She is also Chair of the Wantage (not just Betjeman) Literary Festival. As DB Martin and Debrah Martin she writes adult mystery suspense thriller novels, but as Lily Stuart, the pen name she uses for her YA novels, she has found a new niche - Young Adult stories that actually use the contemporary language, bodily metamorphoses and hormonal changes that YA readers are experiencing. No fantasy lightheaded silliness here, just solid writing on a quite grand scale that `examines real people in real - but unexpected - situations, and the way their life transforms because of them. Her work has been described variously as intriguing, poignant, irreverent, quirky and page-turning.' Before settling into writing as a full time career she was a teacher and ran the business networking for the University of Winchester and social event management. And when asked why she writes on the edge, she states, `Stories that will have you on the edge of your seat. Go inside a killer's mind, balance on the edge of insanity, face the point of no return and go beyond it. I'm fascinated by all aspects of the human mind and behaviour as well as the dimensions we can't see in the real world. Consequently in my books you might equally well find yourself sharing in a domestic dilemma which leads to nightmare, or a nightmare that leads to a dilemma - real or imagined, possible or incredible, actual or supernatural.'
That being said, this reader has enjoyed each of Debrah's avenues of expression, and it is with great delight to read this, her newest book, in a different vein. She celebrates her talent as an artist (and poet) by leading us through the processes of creating landscapes. While the book is a solid teaching guide about encountering an inspiration, whether through direct observation in nature, in photographs, in imagination, and from that nidus she shares the technical aspects of composition, color (from all aspects), the art of achieving drama through contrasting light and shade and texture, and that mystical element of eloquent sfumato.
Related in near poetic form, these lessons unravel not only the technical side of painting, but also the lyrical transformation of pigment/paper/canvas into that realm of visual inspiration and beauty. This is a multifaceted book, excellent for aspiring artists, and flights of dreams for all. Highly Recommended.
Editor's note:
This review has been published with the permission of Grady Harp. Like what you read? Subscribe to the
SFRB
's free daily email notice so you can be up-to-date on our latest articles. Scroll up this page to the sign-up field on your right.
Two kings. Two princes. One queen. The true story of five aristocrats separated by time, culture, and circumstance -- all of them bound to the United States by accidents of history and left to hope for a tomorrow better than today. Prepare for a vision of the American Dream as few others have ever seen it.