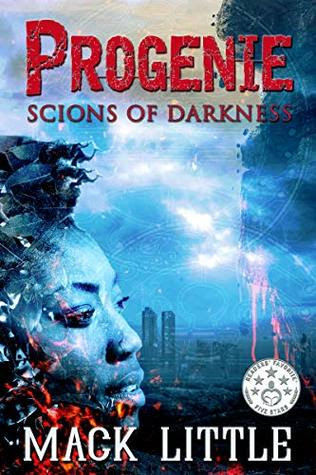 The breach of time – a stunning new debut novel!
Texas author Mack Little makes an impressive debut as a novelist with Progenie – the initial episode of the promised series Scions of Darkness. Born in Georgia, living in Spain, serving in the military in Germany, and spending career time across the US, she earned degrees in both English and Information Science and uses that combination to step onto the platform of Fantasy novels. She lives in Houston, Texas.
The mystery of this well-crafted fantasy novel rises out of the Prologue set in New Orleans, Louisiana in the present day –'On the sixth tetrad following the birth of the first blood prince, the stillness of Elysium Fields receded, The air vibrated beneath the star-speckled dome of the night sky. Darkness coalesced, devouring moonlight and the vague city lights that drifted into the vacant lot. Tendrils of a lightless network took shape. A web of black vessels stretched and covered a human form, long limbs, pale and dimly glowing. The figure – some creature incarnated – recumbent, head turned to the side, a mass of straight black hair hiding his face. "Kayin, come forth," he rasped. "I am here, Kayin." The secrets hidden in this eloquently written introduction gradually are manifest in the story following. The clues – mythology, fantasy, futurism and horror – are planted and bloom on every page of this fine novel.
Mack Little provides a synopsis of her book that serves as a map to the at times confusing (and intentional!) time frames that create a bridge between now and before. 'Zenobia Grant – Doctor, daughter, lover, warrior. And not quite human. Zen has been trained from birth to defend herself against a terrible threat. And to be careful to not injure the fragile humans that surround her. She uses her skills to heal, not harm, and to keep the questions that haunt her at bay. Zen doesn't know what she really is or what happened to her mother. But the answers will put her in the crosshairs of some of the most powerful and malevolent beings in existence. Djinn, dhampyrs, and vampires all stalk Zen for their own reasons. Visions inspired by an ancient book lead her to discoveries. Not only of who and what she is, but it identifies the creatures who attack her and her family. What it doesn't tell her is how to defeat them before any more loved ones are destroyed. Set against the rich tapestries of the ancient world and present day, Progenie is an epic journey of self-discovery, love, and betrayal.'
The story takes us through many centuries and religions and philosophies and myths as we follow the initial character of the Scions of Darkness. At times the book seems to overwhelm with strange names, but the author has also remedied that potential roadblock by providing excellent appendices that explain all names, times, relationships, and places. Mack Little makes a very strong presence, equipped to create unforgettable characters and themes that signal the arrival of a very fine artist. Recommended.
Editor's note:
This review has been published with the permission of Grady Harp. Like what you read? Subscribe to the
SFRB
's free daily email notice so you can be up-to-date on our latest articles. Scroll up this page to the sign-up field on your right.
Two kings. Two princes. One queen. The true story of five aristocrats separated by time, culture, and circumstance -- all of them bound to the United States by accidents of history and left to hope for a tomorrow better than today. Prepare for a vision of the American Dream as few others have ever seen it.