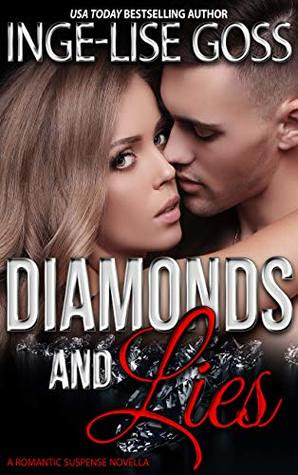 'The missing diamonds need to be replaced, or I'm toast.'
Nevada author Inge-Lise Goss was born in Denmark, raised in Utah and graduated from the University of Utah, magna cum laude. She and her husband live in the majesty of Red Rock Canyon and after a career as a certified public accountant, she drinks in the scenery and turns it into her novels.
Inge-Lise steps away from her very popular series – THE TEGEN SERIES, THE GWYNN REZNICK MYSTERIES – and offers a stand-alone novel that is one of her finest action adventure tales to date! Before getting to the story it is worth noting that for many readers and fans of thriller novels (and this is most decidedly a Thriller!), the opening pages of the book are key as to whether or not a novel is going to produce. Inge-Lise offers a prologue that will likely have you holding your breath - not really giving away the story to come, but setting a chilling mood that is stunning. She adds the aspect that she happens to be a very fine wordsmith in the way she incorporate natural atmosphere in lush prose. 'Mia Sloan checked her watch, trepidation mounting as if she were checking a bomb's timepiece while trying to defuse the explosive device. Andy's call had awakened her early, wanting to meet for breakfast with his favorite sister. As his only sibling, Mia knew his modus operandi when he needed her help…' Tension level established and the story progresses with finesse.
But on to the story, as offered by the author's synopsis: ': Sparkling rocks, family secrets, and seductive lies. Mia's advertising career masks a side job in the family business - the business is thievery and the competition kills. Partnering with her brother, Andy, Mia is drawn into a short timeline to plan a diamond heist to make good on Andy's double-cross of the crime boss who hired him for the prior job. Openly teasing the mark, Mia plays with the jeweler's attraction to her, insinuating herself into his life, gaining his confidence. When Andy's past threatens them both, Mia abandons the heist and disappears. The mark, under Mia's spell, hides and protects her from danger. They are both in peril as her brother's stalker closes in on them. Alternating between ecstasy and fear, she has to make a fateful decision. Is she placing her trust in the wrong man? Can a relationship built on lies become real?'
For those fortunate enough to have read her other books the suspense ahead may not surprise, but for those for whom this is the first outing with Inge-Lise Goss beware. You are in for a terrifying adventure with more twists and turns than you can imagine, Highly Recommended.
Editor's note:
This review has been published with the permission of Grady Harp. Like what you read? Subscribe to the
SFRB
's free daily email notice so you can be up-to-date on our latest articles. Scroll up this page to the sign-up field on your right.
Two kings. Two princes. One queen. The true story of five aristocrats separated by time, culture, and circumstance -- all of them bound to the United States by accidents of history and left to hope for a tomorrow better than today. Prepare for a vision of the American Dream as few others have ever seen it.