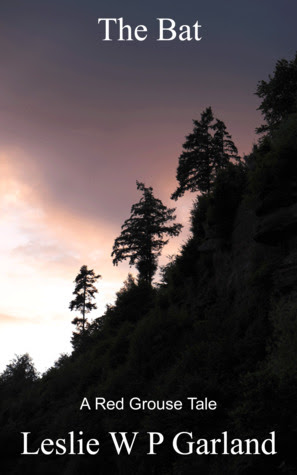 'To one who has faith no explanation is necessary…' St Thomas Aquinas
British author Leslie WP Garland has served successful as a civil engineer in the UK, the Far East and Africa, and as a photographer, and now he turns to writing stories he groups into various books as The Red Grouse Tales. THE BAT is one of these stories. Leslie lives in Northumberland, England.
Reading the Foreword we discover the background and meaning of the name for this fine series – The Red Grouse Tales: 'Quite how we'd got into this story telling thing is something that eludes me now, but somehow we had; the "we" being a group of us who had met usually, though not exclusively, at "The Red Grouse Inn" on the first Thursday evening of each month. "The Red Grouse" was an old coaching inn run by a charming landlady called Jenny. She had been married once upon a time, but things hadn't worked out and after her divorce she'd ended up buying the inn. It had a warm, cosy, homely feel to it - red carpets, dark oak wood panelling, benches with cushions and heavily varnished tables - and if you liked sitting round one of these tables and having a few pints of Jenny's excellent real ale and a chat on an evening, then this was the place for you! Then, on one such evening, one of our company told a story. It came completely out of the blue, with no prior discussion or anything to suggest it would happen. What I do recall is that that first story, whichever one it was, had us all entranced, so much so that at the following meeting a story was almost expected and thereafter we started to look forward to those Thursday evenings not just for the social chit-chat, but for the story that we would hear that evening. Due to the spontaneous and informal nature of the story telling it never occurred to me, or anyone else for that matter, to take notes or write anything down and it was only afterwards that it struck me that those tales might be worth saving for posterity, if that doesn't sound too pompous! Hence, because this was done very much "after the event", the result is that what follows is from my memory of what was said, and I fully realise that this may have failed me on some of the details and so offer my apologies to both the original tellers of these tales and you the reader, if this is the case.' A fine taste of the author's prose, this.
And who could resist an invitation such as this – the opening door to explore the marvelous stories Leslie shares. THE BAT relates the adventures of Thomas and his friends, the joys of youth and the fractures of coming of age. The focal point of the story surrounds a classroom with a new teacher and a collection of stuffed animals donated to the school by a benefactor Perhaps an odd gift this, but a portal to explore the unknown: the 'stuffed' animals are not inert – and a bat in a bell jar emerges full of mysterious presence, The manner in which Tom and friends respond is the essence of the coming of age ordeal, and Leslie relates it in a manner that is at all times thoroughly smart and entertaining. Exceptionally fine writing and a fine invitation to follow these Red Grouse Tales!
Editor's note:
This review has been published with the permission of Grady Harp. Like what you read? Subscribe to the
SFRB
's free daily email notice so you can be up-to-date on our latest articles. Scroll up this page to the sign-up field on your right.
Two kings. Two princes. One queen. The true story of five aristocrats separated by time, culture, and circumstance -- all of them bound to the United States by accidents of history and left to hope for a tomorrow better than today. Prepare for a vision of the American Dream as few others have ever seen it.