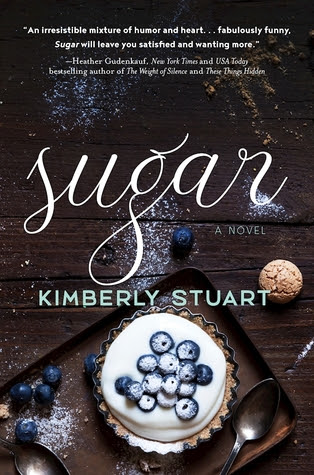 'You are single and childless. And frivolous with time.'
Iowa author Kimberly Stuart is well known in the Midwest as a fine story teller, having published eight popular novels to date – OPERATION BONNET, STRETCH MARKS, BETTER TOGETHER, ACT TWO, BOTTOM LINE and BALANCING ACT (the Heidi Elliott Series), HEART LAND, and SUGAR. Her zest for living and her excellent presentation of the women's viewpoint have made her a favorite, and now she expands her audience with a new PR firm – and we are the wining recipients. Kimberly lives in Des Moines with her treasured family.
One of the several reasons Kimberly is growing in popularity is her ability to mirror the aspects of a female main character stepping into a leading position usually occupied by men – and it works very well indeed. In this book the lead character is Charlie Garrett, a chef, who accepts a bid to become an executive pastry chef in Seattle's famed Thrill restaurant. The personality of Charlie is set in the opening paragraphs: 'With another shift almost completed, I wondered for the millionth time if the restaurant business attracted a disproportionate number of insane people. I glanced at the oversized clock on the wall and saw the hands reaching for one in the morning - dawn would be creeping into Manhattan in a matter of hours. Folding a damp towel into a pristine square, I took a look around my pastry station. After the scrub job I'd just done, I needed a postintimacy cigarette…' And it is this warm combination of concept embraced with humor that flows on every page of this book.
One part female pastry chef, one part romance, one part conflicts, a dash of reality shows, and add high and subtle humor to the top. That is one way to describe this warmly convincing adventure into the land of competition and hilarity and love in the realm of restaurant kitchens – from New York to Seattle. Kimberly Stuart is a polished and skillful artist whose style is contagious! Recommended.
Editor's note:
This review has been published with the permission of Grady Harp. Like what you read? Subscribe to the
SFRB
's free daily email notice so you can be up-to-date on our latest articles. Scroll up this page to the sign-up field on your right.
Two kings. Two princes. One queen. The true story of five aristocrats separated by time, culture, and circumstance -- all of them bound to the United States by accidents of history and left to hope for a tomorrow better than today. Prepare for a vision of the American Dream as few others have ever seen it.