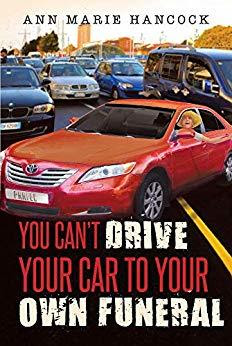 'Life is short and full of wrinkles'
Virginia author Ann Marie Hancock, the retired well-known television personality, model and talk show host, now has gifted the world with a memorable book about her mother's life journey as she faced cancer, and in doing so Ann Marie offers a wise, warm, and at times humorous message about living life to its fullest. She has garnered many awards for her contributions to humanity, is a popular speaker, and has also written BE A LIGHT MIRACLE AT MEDJUGORIE and WAKE UP, AMERICA.
The tone of this valuable book is set with her opening comment: ' I have written YOU CAN'T DRIVE YOU CAR TO YOUR OWN FUNERAL with complete dedication, commitment, and the hope that you will find loving solutions to the stressful challenges of caring for a 'difficult' dear one…We all have a difficult person in our lives. This creates stress and stress changes the chemical structure of the cells, creating illness and disease…One can only conclude that it is imperative to deal with conflict in a positive, loving way…we want to send love as we would like to receive it. We need to send our uplifting, healing words; we surely all need them.'
Ann Marie shares her religious experiences that prepared her for facing her 'in control' mother's diagnosis of squamous cell carcinoma, a status her mother termed 'No big deal.' We're not talking about it. We are moving on.' Having her own history of severe medical problems in many ways prepared her for her stoic mother's denial of the threat of advanced cancer. The loss of her father after her mother's surgeries added to the milieu, and though shaken, her mother 'soldiered on.' Concurrently Ann Marie suffered a fall resulting in severe hip pain and dysfunction. Through her mother's subsequent added surgeries, radiation, scans and all the paraphernalia accompanying metastatic carcinoma 'mama' remained stoic and independent, electing to consider her diagnosis and treatments as 'No big deal.' The role of caretaker was lovingly offered, if not always accepted.
'Sickness involves humility and accepting help from those who love you. Mom really struggled with this.' And so did Ann Marie, and her dealing with a strong-willed mother brought constant reinforcement to her spiritual faith in God. Or as she shares, 'Everything is in our computers, and it begins in the womb. The little or big messages crop up during our lives to test us and see how we are progressing. We either fold or smile and remember who we are – children of God, all of us.'
And so we learn about Ann Marie's life and trials and the manner in which she cared for her iron-willed mother, suffering her own medical problems and finding an even stronger connection to her faith. This rich journey she shares with photographs of her family – her mother, husband, children, church – and the result is a tribute to love and faith and perseverance. This book is a 'from the heart' blooming of love and faith – an end-of-the-tunnel light for all of us. Highly Recommended.
Editor's note:
This review has been published with the permission of Grady Harp. Like what you read? Subscribe to the
SFRB
's free daily email notice so you can be up-to-date on our latest articles. Scroll up this page to the sign-up field on your right.