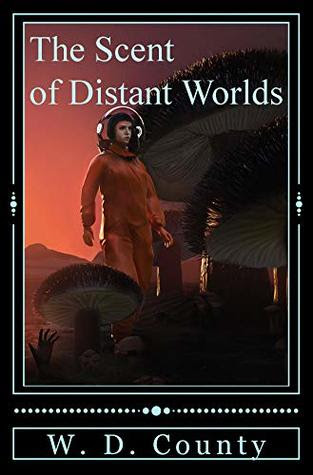 'When darkness comes, we do not walk by sight. We walk by faith.'
Author W.D. County earned his BA in physics and philosophy and his MFA in writing and has held positions as a nuclear reactor operator aboard the ballistic missile submarine USS Sam Houston in the US Navy, a manager at the Three Mile Island Nuclear Station, and a developer of custom software for the federal government. His penchant for science fiction publications includes novels and short stories in magazines and anthologies. He comes to THE SCENT OF DISTANT WORLDS well prepared!
While science fiction tales continue to fascinate readers and provide an escape from the tedium of the real world, few authors have been able to create stories that provide credible predictions for our lives in a future that shares a universe with aliens. County does that with an enthralling and philosophically credible novel that describes how humans and aliens might interact – at some point in the future.
Joining a journey of this sort is credible if the tenor of the book is in fine prose that promises a solid foundation. County opens his book with an infectiously interesting Prologue: 'When the night nurse entered his room in the middle of the night, the old man pulled the sheet up to hide the knife and half-carved totem. The action also hid the dusting of black powder released from the meticulous shaving and scraping of the ebony that would soon reveal the figure concealed with in the wood. In the morning, after breakfast, he'd tell the dayshift he'd spilled pepper. It wouldn't fool them, but it allowed them to overlook the whims of a dying man. The night nurse took his pulse, temperature, and blood pressure. She asked if he were comfortable, to which he answered yes. It wasn't a lie. Pain could be mastered and subdued by those who knew how, and the aged shaman of the Seminole tribe knew many hows and almost as many whys.' And so we meet Cassie's grandfather and enter the mystery of this story.
A reference to the plot summary helps map the course: 'Exobiologist Cassie Clearwater gathers samples, unaware of the scent-based civilization surrounding her. The misfit sprout Pepper lives in that society, and her new ideas challenge ages-old wisdom. But when members of the grove are mutilated, abducted, and killed by an odorless and undetectable force, Pepper's penchant for original thought becomes their only hope for survival. Cassie is torn between science and spirituality (her grandfather was a Native American shaman), while also dealing with an unexpected pregnancy. Pepper has to deal with humiliation as she battles rigid culture bias. These female champions, human and plant, grow particularly vivid as each becomes hero and villain to the other, as the death count mounts on both sides. The depths of human and alien emotions are exposed through internal and external conflicts.'
Original, engrossing, and worthy of consideration for alternative futures, this is a book that deserves wide attention, both for its excellent story and for its challenging ideas about the future. Highly Recommended.
Editor's note:
This review has been published with the permission of Grady Harp. Like what you read? Subscribe to the
SFRB
's free daily email notice so you can be up-to-date on our latest articles. Scroll up this page to the sign-up field on your right.
______________________________________________
Two kings. Two princes. One queen. The true story of five aristocrats separated by time, culture, and circumstance -- all of them bound to the United States by accidents of history and left to hope for a tomorrow better than today. Prepare for a vision of the American Dream as few others have ever seen it.