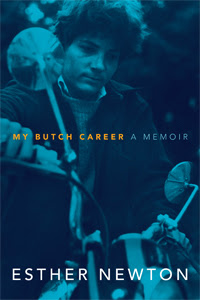 'A gender outlaw in the making'
Author/activist Esther Newton is one of the more highly regarded pioneers of gay and lesbian studies. She has been a Term Professor of Women's Studies at University of Michigan, Professor of Anthropology at Purchase College, State University of New York, and has published important books including MARGARET MEAD MADE ME GAY: PERSONAL ESSAYS, PUBLIC IDEAS, CHERRY GROVE, FIRE ISLAND: SIXTY YEARS IN AMERICA'S FIRST GAY AND LESBIAN TOWN, MOTHER CAMP: FEMALE IMPERSONATORS, and THE SIEGE AND OTHER AWARD WINNING STORIES.
In her Introduction Esther sets the tone of her memoir – 'This is the story of how I came in to this world a "Commie Jew Bastard" – my grandfather's slur – and became an anthropologist who helped create sexuality and gender studies. That is the career of my title. It also is the story of how I came to see myself as butch, a stigmatized identity quite at odds with the concept of a career. By "butch" I mean an identity as a woman but whose sense of self is deeply rooted in masculinity. This narrative centers on the first half o my life, from childhood to age forty. These were years when I suffered torments, as did most gay people of my generation. We were hated, hounded, arrested, and slandered without being able to answer back…'
Though the reader may feel from these comments that the book will be acerbic and ranting, nothing could be further from the truth. Esther is such a gifted writer that she is able to talk realistically about the trials of gender conflicts while keeping her narrative so rich in humor and tenderness that the overall impact of her book is one of uplifting moments that speak louder that anger.
As she offers in the Prologue, 'Coming out stories have long been important to queer narratives, and so I invite you to see me as a freshman in college. In a dorm room in Mary Markley Hall at the University of Michigan in the spring of 1959. This first sexual encounter with a woman was bizarrely wonderful and so scary, If Betty Silver, as I'll call her, had not existed, I would not have been able to make her up.'
With many photographs to illustrate her memoir Esther leads us through her life and the journey is a complete pleasure – tender, hilarious, sad, and affirming. This is another important work by a gifted and valuable giant in the world of gender studies. Highly recommended.
Editor's note:
This review has been published with the permission of Grady Harp. Like what you read? Subscribe to the
SFRB
's free daily email notice so you can be up-to-date on our latest articles. Scroll up this page to the sign-up field on your right.