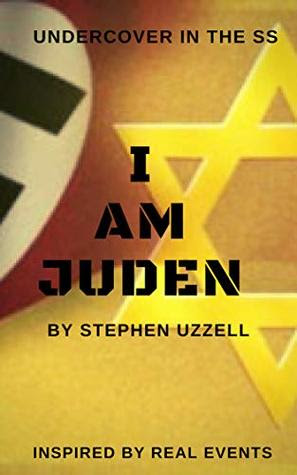 'The boy was born with his boots on'
British author/teacher Stephen Uzzell makes an auspicious writing debut with I AM JUDEN: UNDERCOVER IN THE SS. The concept of the novel is grounded in his research on World War II and his discovery of one Haim Michael Klar, a Jewish man who impersonated a Nazi officer in order to help those trapped in the ghettos and concentration camps. With that stimulus Stephen created his character Jozef Siegler to exemplify the in novel form the heroic acts of a true person. The result, a novel that is fascinating, engrossing as a story, and one of the more impressive books based on the horrors of WW II.
As Stephen offers in his Introduction, 'In the annals of World War Two heroism, the name Haim Michael Klar deserves to be as widely known as Oskar Schindler. Although Haim may not have saved lives on Schindler's scale (the truth is we cannot know; the facts are few and far between), his individual sacrifice was almost beyond comprehension. During the final years of the war, Haim impersonated an SS officer at Auschwitz and helped ease the suffering of prisoners, who regarded him as their 'Guardian Angel'. When we consider that Haim was also Jewish, his courage in walking that most precarious of tightropes is astonishing.'
Told in the voice of the main character's recollections of his history and the trials he would face and endure, I AM JUDEN is an extraordinary reading experience, a novel based on fact but rendered as an engrossing story with a new cast of created characters. Stephen Uzzell has woven facts with the skill of a documentarian and enhanced those facts with the burnish of a thriller and the result is a novel that is both informative in reflection of a significant man's heroic life and substantial novel.
The quality of writing is excellent and appears as a storyboard for a film adaptation, not unlike the much lauded 'Shindler's List.' It is satisfying to see that a sequel of sorts is to follow. Highly recommended.
Editor's note:
This review has been published with the permission of Grady Harp. Like what you read? Subscribe to the
SFRB
's free daily email notice so you can be up-to-date on our latest articles. Scroll up this page to the sign-up field on your right.