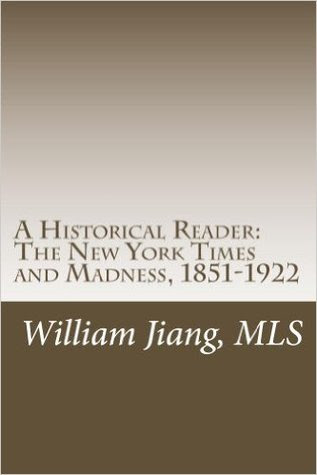 'Forgetting is a defensive process which protects our ego from paralyzing memories of defeat.'
Author William Jiang's extraordinary chronicle of his life -A SCHIZOPHRENIC WILL - is at once arresting, horrifying, challenging and inspiring. Obviously Will Jiang is a brilliant young handsome man born prematurely to an Anglo-Saxon mother and an absentee Russian Jewish father and later adopted by his Chinese stepfather Yu Jiang. The reason for mentioning his autobiography is the fact that Will Jiang was diagnosed at age 19 as a paranoid schizophrenic and given the fact that he is well educated, having earned a BA and a Masters of Library Science, speaks four languages, served as the Columbia University/NYSPI Medical Library Chief, and has written a number of fine books: he has the credentials that make his MEDICAL LIBRARIAN'S GUIDE TO NATURAL MENTAL HEALTH so pertinent and he enhanced his credentials with MY NATURAL DEPRESSION FIX! Stepping into the broader field of mental illness as defined, treated and presented to the public, Will has combed the New York Times for all pertinent articles written about mental illness during the time frame 1851 – 1922.
In the Introductory comments Will presents his case for exploring the public venue for the progress of our perception of mental illness in articles published in the New York Times. IN addition to being fascinating and enlighten, Will adds enough lightness to encourage the reader to join him in his historical survey, such as the following: 'One hundred years ago, people thought that the moon influenced the humors of people, the theory of humors to explain mental illness goes back to the ancient Greeks. The moon was supposed to affect the humors in those who suffer with mental illnesses, this is why often they were called "lunatics". Luna being the root meaning moon. Other terms that have changed since 1851 are major depression which was called melancholia, and schizophrenia used to be called dementia praecox.' This combination of commentary with the historically significant articles by and about Jung, Freud and many others provides a significant addition to the available literature on the history of the perception of mental illness.
Example: November 1922 – Dr. William Held - '"Out of 400 cases of epilepsy, I can say that 18 per cent have been cured," Dr. Held said. "Even cases in asylums and others on the way to asylums have been cured. As a result I can say that insanity, whether due to epilepsy, shell shock or whatever cause, is no longer to be looked upon as well nigh incurable."
As with all of Will books, reading them is joy as well as education. He is a giant among men and we are fortunate that he is increasing his writing commitment: we are the winners!
Editor's note:
This review has been published with the permission of Grady Harp. Like what you read? Subscribe to the
SFRB
's free daily email notice so you can be up-to-date on our latest articles. Scroll up this page to the sign-up field on your right.
______________________________________________
Two kings. Two princes. One queen. The true story of five aristocrats separated by time, culture, and circumstance -- all of them bound to the United States by accidents of history and left to hope for a tomorrow better than today. Prepare for a vision of the American Dream as few others have ever seen it.