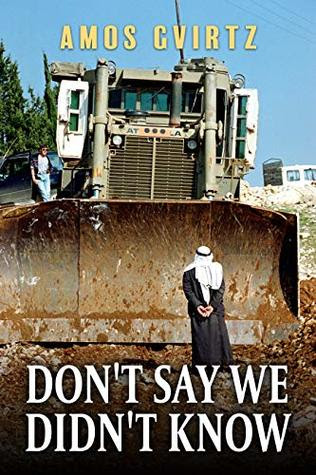 "What?!' Do you actually deny our right to be here?"
Israeli author Amos Gvirtz is on a mission: to inform all people about the sanctity of human life and the equality of all human beings, particularly as addressed in his well written book seeking understanding and between Israel and Palestine and promoting a nonviolent approach to stop the banishment of Palestinians from their home.
The mood for this examination of the dichotomy between Israelis and Palestinians is set in Amos' Introduction: 'A few years ago, Ya'acov Manor and I went to the Intensive Care Unity of Beilinson Hospital to vista an elderly Palestinian man who had been beaten unconscious by settlers from Elon Moreh. We sat talking with the injured man's son. Another Palestinian, there to visit his sick brother, joined our conversation. He told us how he had suffered at the hands of teenage boys from the Israeli settlement beside his village, which repeatedly broke through the fence around his cistern and urinated in it. At that moment I thought to myself, there are thousands of such stories that don't get told and that none f us Israelis hear about. They are part of the ongoing chronicle of the occupation.'
Amos proceeds to offer both sides of the ongoing Israeli-Palestinian/Arab conflict in a manner of equal time for both sides' plight. A significant number of actual incidents are reported, reinforcing the title of the book. The result is a book that puts so much into perspective that we can only hope that his plea for understanding and non violence will finally be heard, considered and acted upon.
Both sides of the human coin are addressed in a manner that should bring attention to Amos Gvirtz and his plea for peace and understanding. This is an impressive and important book.
Editor's note:
This review has been published with the permission of Grady Harp. Like what you read? Subscribe to the
SFRB
's free daily email notice so you can be up-to-date on our latest articles. Scroll up this page to the sign-up field on your right.