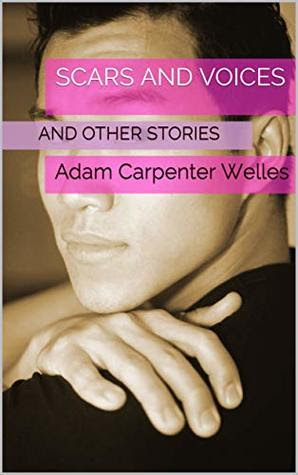 'He wanted his design to, yes, mother them.'
Adam Carpenter Welles makes an impressive debut with this newly published collection of short stories SCARS AND VOICES. In an author's note that opens this book Adam relates the history of each of the seven stories in this collection, describing how they have failed to find publication individually. He states. 'Rejection seems to be the story of my life. Until now. I hope you enjoy these little stories of mine. Maybe someone will.'
There is a special gift required for successful short story composition: in a confined space the author must engage the reader's attention, supply enough character building to retain attention, and create an idea that can fully blossom within a manner of a few pages. Adam has that gift. His stories are succinct yet blossom into a satisfying tale making use of the very special characters he has created.
The opening (and title) story places on the stage two elderly spiritually inclined leaders – the woman has the scars she has nurtured with ecstasies and voices from the Virgin Mary and relates this to the tales of healing by the man. Warmly related with a keen sense of humor and tenderness, Adam writes, 'He did love her, that was all there was to it. They were two kids, age eighty, used of God, used up by God or maybe God's people, here together now in the day room of a reputable nursing home. After just a couple of days together, he loved this woman, side scar and all. She didn't know it yet. She treated everybody with the same warmth and smiling words, apparently authentic.'
Adam spins gay themed stories especially well, allowing the reader to experience the rigors of impossible relationships, such as the story of the coming out of an Atlanta copywriter through the contemporary means of online dating apps and iPhone communication with a Vietnamese lad: 'It was a night Franklin would never forget, a night he fell in love with this funny odd Asian Vietnamese mystery man with the broad, smiling face and dancing eyes, a night that he feared would never end and never be repeated, that his life would be all downhill from here. It was a night of surprises and a few pleasant shocks, a night that culminated, in the midst of all the frenetic activity swirling around them in this strange, dark, seemingly deserted venue, in a sweet, soft, but passionate kiss. And that was all.'
Seven stories that embrace all manner of themes – and each works very well indeed. Welcome to the realm of successfully published writers!
Editor's note: This review has been published with the permission of Grady Harp. Like what you read? Subscribe to the SFRB's free daily email notice so you can be up-to-date on our latest articles. Scroll up this page to the sign-up field on your right.