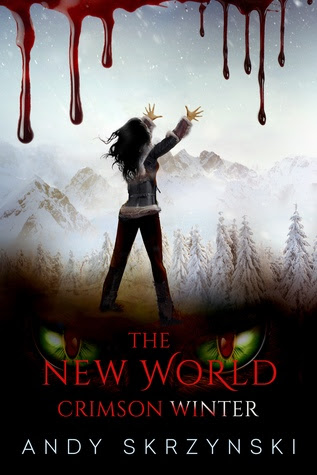 'Forget the head games. Let's find that monster.'
Texas author Andy Skrzynski shares he spent his early years in an orphanage Jackson, Michigan, and moved on to graduate with a bachelor's in Electrical Engineering from Michigan State University. He worked at IBM in Austin, Texas until his retirement and now spends his days writing science fiction novels. His series THE NEW WORLD has three volumes to date – CRIMSON WINTER is the third volume.
Andy sets the mood for his ongoing adventure with richly colorful and imaginative covers that afford a sense of reality to these science fiction adventures that offer the life-and-death struggles on Earth after an apocalyptic period between 2019 and 2025. The language that flavors this exciting novel is set form the opening lines: 'October 17, 2105 – Twelve Years After the Second Battle with the Skalags - Stone- cold, every bone in Bartuk's body trembled. His sullen gaze slowly panned the crimson soil of his pasture, splattered with blood and raw flesh. The putrid stench of death invaded his nostrils and roiled his gut. He gagged once, then again, before puke exploded form his nose and mouth…' Welcome to the continued saga of The New World!
At times reading the latest volume of a series without having the background of the earlier episodes can be disconcerting, but Andy's manner of writing brings us up to date and signals the desire to return to the earlier volumes. He has provided a tight synopsis: 'On the verge of winter in 2105, a vicious attack soaks a pasture with blood and crushes Ukkiville's serenity. Ominous premonitions haunt Hoot while similar dangers surge across Old North America. Tormented by nightmares, the courageous young warrior recruits her friends to join her and hunt the demon of her dreams. Before long, they encounter a beast far more ferocious than any discovered before. Suspicions fall squarely on the village's nemesis, as Hoot and the leaders of Ukkiville fear Zo and his Skalags have advanced their DNA process to create monsters nobody can control. With little choice but to ready themselves to thwart increasing slaughters, Hoot, her brother, Skeeter, and a precocious android named Andralec hone their skills and special powers. Until the inhabitants of Ukkiville and the surrounding territory halt this growing threat, survival remains all but uncertain.'
Becoming immersed in Andy's world is a fine adventure for the reader. Suspend belief and ride the waves of this talented science fiction writer.
Editor's note: This review has been published with the permission of Grady Harp. Like what you read? Subscribe to the SFRB's free daily email notice so you can be up-to-date on our latest articles. Scroll up this page to the sign-up field on your right.