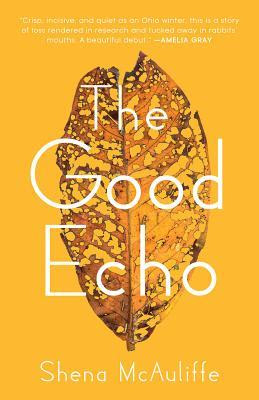 "Death has made a storyteller of me."
New York author Shena McAuliffe earned her MFA from Washington University in St. Louis, and a PhD in Literature and Creative Writing from the University of Utah where she was a Vice-Presidential Fellow. She is now an Assistant Professor of Fiction at Union College. THE GOOD ECHO is Shena's debut novel, though her stories and essays are widely published in Conjunctions, Gulf Coast, Black Warrior Review, Alaska Quarterly Review, and elsewhere
An impressive first novel THE GOOD ECHO dares to go where few have taken us – the mind journeys that surround the death of a family member revealing the encrustaceons and mind pits grief can alter lives of those left behind. Running away from grief simply doesn't work: facing the effects of sadness alters the way we respond and even grow.
Shena's summary of her plot is a fine distillation: 'Set in the 1930s, and spanning the globe, THE GOOD ECHO is the story of a marriage between controversial nutritionist and dentist Clifford Bell, and his quietly courageous wife Frances. After their young son dies from surgery (a root canal with subsequent infection) Clifford performs, the two seek to escape their grief through unconventional means, traveling from Ohio to Sudan, to substantiate a theory of which Clifford's colleagues are skeptical. Narrated in turn by Frances and Clifford, and by the ghost of their son Benjamin, THE GOOD ECHO is composed of postcards and bedtime stories, folktales and family legends, travel and research notes. THE GOOD ECHO celebrates the healing that can arise through sustained curiosity, and how our deepest sadness sometimes initiates the boldest adventures of our lives.'
It would be difficult to outline the events of this luminous book better. Shena's choice to open the book with a Prologue in the voice of Benjamin, the soon deceased child, is subtly beautiful –' First, Cleveland. City of my birth, city of my death. City of brick and ice and buzzing streetcars. Sausages and perch, tornadoes ad rain. City of wining Cuyahoga, the long gray shore of Lake Erie, steel bridges pivoting. Factories purling steam in to a white sky. I am – I was – Benjamin Donald Bell, child of Clifford and Frances Bell. I died of sepsis form an infected root canal. My father was my dentist. For now, I won't muddle through the logic of language arranged by a ghost. For now, simply this: death has made a storyteller of me.'
A pastiche of notes of Dr. Bell, snippets and whisks of travel notes, and hints of the revelations that the book will bring at the closing – the need is to slowly read and then re-read this eloquent book. Shena McAuliffe shines brightly.
Editor's note: This review has been published with the permission of Grady Harp. Like what you read? Subscribe to the SFRB's free daily email notice so you can be up-to-date on our latest articles. Scroll up this page to the sign-up field on your right.