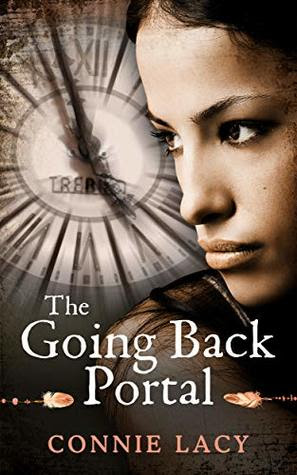 'You must leave. It is not safe'....'Are you Forest Water?'
Georgia author Connie Lacy earned a degree in Journalism and Creative Writing at University of North Carolina at Pembroke and used her skills as a radio reporter and news anchor. Now she writes time travel, magical realism, climate fiction and historical fiction novels: her published books include THE TIME TELEPHONE, A DAFFODIL FOR ANGIE, THE SHADE RING TRILOGY, VISIONSIGHT, and now THE GOING BACK PORTAL. She lives in Atlanta.
In keeping with Connie's character preference for 'young women facing serious challenges set against the backdrop of some thorny issues,' this exceptionally well written novel offers the experiences of two courageous women in different time periods whose lives intertwine by means of a Portal through which the contemporary woman can step into 1840 Georgia to witness the trials of a young Cherokee woman, finding parallels that grow in meaning and significance as the story progresses. Time travel novels can often challenge reality testing for readers, but the secure manner in which Connie introduces the concept results in allowing the reader to suspend disbelief and instead find the story credible.
The note as to the plot compresses the adventure well: 'Rural Georgia, 1840. Determined to keep her ancestral lands after her family is forced to march west during the Trail of Tears, a young Cherokee Indian woman finds herself trapped by a brutal white man on her own farmstead. When Kathryn Spears arrives from the twenty-first century, Forest Water hopes she's a good spirit sent to help her. The Going Back Portal is the story of two courageous young women caught in a dangerous confrontation between good and evil where one wrong move could reverberate across generations. Each one falls in love with a man from her own time, but there's no certainty they'll survive the savage who's taken possession of the land and their freedom.'
The flow of writing is evident from page 1: 'There was no denying Nana did sometimes resemble an old Indian woman. She certainly had the high cheek bones and brown eyes. But I stopped believing her tall tales when I was twelve. Not wanting to hurt her feelings, I humored her when she said she was one sixteenth Cherokee. Or one thirty-second. Or maybe one sixty-fourth. Her story changed from one telling to the next.'
Add to the mix well sculpted characters whose presence enhances this fine novel and the result is one fine read! Recommended.
Editor's note: This review has been published with the permission of Grady Harp. Like what you read? Subscribe to the SFRB's free daily email notice so you can be up-to-date on our latest articles. Scroll up this page to the sign-up field on your right.