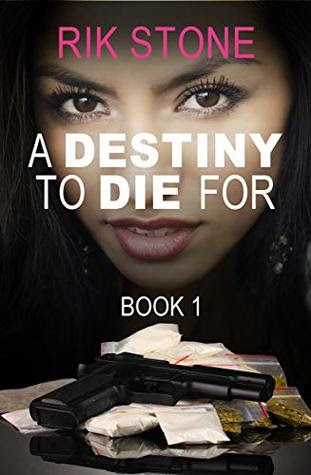 'Money might no be everything, but without it you are nothing'
British author Rik Stone has always loved to read, especially fiction, even while working in the shipyards, the merchant navy and the quarries in South East England. After gaining this amount of life experience he turned to his education, earning a Bachelor of Science degree in Mathematics and Computing Technology. Now, retired from all of that background, he has realized his dream of being a writer. His first book was BIRTH OF AN ASSASIN and partly due to the public success of that novel as well as his drive to explore the topic further he has created a series - and that is where we arrived with THE TURKISH CONNECTION, THE MAN IN THE BLUE FEZ, then THE WAY WE WERE and now A DESTINY TO DIE FOR. He lives in Essex in the UK.
Rik opens his novel with a telling Prologue. Those who are new to Rik's genius are introduced to his fluid writing style, a technique of creating atmosphere of place: `Recife, Brazil – My name is Angelita – little angel. With seven brothers and sisters, Mama didn't name me this because she saw something special in an only child; she thought I had an angelic beauty and a spiritual aura. Boy, did she get that wrong. Angel? No Fallen angel? Maybe, sounds nearer the mark. No doubt, I was always stunning, but to some beauty if of no importance – my papa was one like this. It was nothing personal with him; he'd been pretty much indifferent to how anyone looked and that included us children. In fact, the only thing he found exquisite was a well-developed right hook in the cage…maybe Mama was his exception. As far as spiritual aura went, I suppose I was a pretty good kid; all the way up to four years old!' And we realize this is all a memory – Angelita has changed…
Rik then brings our main character into focus with Chapter 1 – quite a different Angelita than in the early years of the Prologue persona. And Rik provides a terse synopsis of the plot: 'The dream - Born in a favela, Angelita believes it's her destiny to become rich and powerful. The chance - She stumbles upon a half million dollars worth of heroin in her dead uncle's bathroom. The problem - The drugs belong to the Cartel.'
And so we are in a tale that has all the flavor of Brazil's favelas and the cast of characters that become lifelike as though preparing for a cinematic version of the story – something very much worth considering! This is an intense novel, very strongly written, one that entertains the concept of a continuing series very well indeed. Rik Stone is now established as one very fine sculptor of thriller novels.
Editor's note: This review has been published with the permission of Grady Harp. Like what you read? Subscribe to the SFRB's free daily email notice so you can be up-to-date on our latest articles. Scroll up this page to the sign-up field on your right.