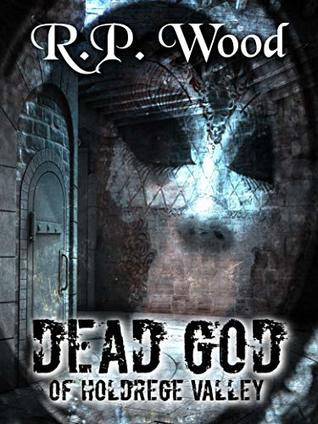 "Two sets of grotesque faces with unnerving eye sockets, cut off noses…Metal faces."
Virginia author R.P. Wood earned his degree in English and creative writing from George Mason University. He has in depth experience in writing short stories, novellas and screenplays. Now his debut novel DEAD GOD OF HOLDREGE VALLEY introduces his imaginative artistry with a book that is comfortably in the occult/horror genre.
Perhaps Wood's experience in writing screenplays contributes to the manner in which he elects to open his book – a visual and very authentic memory card, 'Property of Monmith University, with the subject data on one Brandon Caulfield - 'Subject is standing amid a copse of trees, on the edge of what appears to be a forest grove. The video is extremely dark due to the quality of camera that was used and the excessive corruption due to handling and mis-storage. Subject speaks into the camera and pans back and forth with the surroundings. Nothing is visible on camera. Even after enhancing original video format, other than the face of the subject illuminated by the brightness of the 'preview' window on the camera. –'This is Brandon Caulfield, reporting, hopefully, on something that is going to truly shock you. I am in Holdrege Valley. What I am witnessing and reporting on is not something for the faint of heart. I originally came here to report on the amenities opportunities of the Valley, but I have stumbled into something much more sinister…etc'
With an open as entreating as that the reader is captured. Wood then opens the book with a realistic event with Sawyer Blacklock entering the atmosphere of Holdrege Valley and the plots synopsis states the outline of this story well – 'Unimaginable horror and intrigue overtake a man tracking the last known whereabouts of his best friend. Brandon Caulfield, esteemed traveling journalist for the Washington Chronicle has gone missing while on assignment in sleepy Holdrege Valley. In a picturesque former mining town lying in the shadow of Virginia's highest mountain peak, Sawyer Blacklock must search out and find what has happened to his best friend. Sawyer seems to be the only one who has pieced together that Brandon is in trouble...The peaceful town of Holdrege Valley is not at all what it seems, however. Along with a kind-hearted innkeeper, Sawyer must contend with unexplainable and indescribable phenomenon that seem to plague his search. As more of the puzzle is uncovered, Sawyer runs across and must delve into the inner machinations of a strange religious cult that has swept into the Valley. A shadowy group of zealots have seemingly infiltrated the inner workings of Holdrege Valley for their own divine purpose. Will the world bear witness to the rebirth of the DEAD GOD OF HOLDREGE VALLEY?'
This is an engrossing and sensitive debut novel, written by a new author who deserves our close attention. He spins a fine tale with polished prose and innovative style. Recommended.
Editor's note: This review has been published with the permission of Grady Harp. Like what you read? Subscribe to the SFRB's free daily email notice so you can be up-to-date on our latest articles. Scroll up this page to the sign-up field on your right.