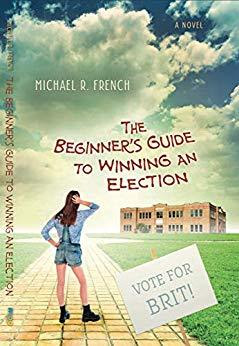 'Most battles worth fighting were ultimately waged in the trenches'
California author Michael French earned his degrees from both Stanford University and Northwestern University. As a businessman and author he lives in both Santa Fe, New Mexico and Santa Barbara, California. His books to date include ABINGDON'S and PURSUIT, both award winning novels, among the many young adult fiction, adult fiction, children's books and screenplays.
Michael understands youth and the crises of coming of age and facing the expectations and disappointments that alter entry into the contemporary world. He has a keen sense of parody, able to take on controversial subject (such as our elections system) and weave a fine story around it. Transporting his story to a few years into the future offers the reader the advantage of retrospection – an entertaining and enlightening diversion that makes of a very fine story.
The synopsis distills the plots well: 'In 2025, the "youthification" of democracy has inspired younger candidates to challenge the ineffective and hypocritical gray-hairs in Congress. Running for student body president at an Indiana high school, political novice Brit Kitridge takes on incumbent Matthew Boltanski, who, with help from a mystery backer, already has his eyes set on Washington. Brit gains courage and insights from a wise history teacher on how to win, but ultimately finds a maze of deceit and corruption in her school. Is exposing the truth enough to win the election?'
The style of Michael's prose is set in the opening chapter – 'A little after 3:00 PM Brit Kitridge punched in a new code for her hall locker: 1836, the date of the Battle of the Alamo. Last week her code had been 1964, a landmark year for civil rights. She loved history, less so the reason for having to periodically change her code. For school security, students marched through metal detectors and past uniform guars, and thankfully, there had never been a shooting at Hawthorn High School. However, thought Brit, there was zero protection form kids spying over your shoulder when you opened your locker. As a bullying tactic, one ninth-grader's locker had been broken into three times, and it was only the second week of school. Others had lost jewelry, cameras, smartphones, and textbooks. And if something sensitive was stolen and exposed, you could be buried in an endless avalanche of gossip. Desperate times called for desperate actions, Brit conceded. Hawthorn High, 120 miles form Bloomington, Indiana was no different form other public schools across the country. Cities and states kept slashing school budgets, like this was the new norm.'
Mixing fact with adventure is a special gift for Michael. Read, be entertained, and think about the repercussions of his observations. Recommended.
Editor's note: This review has been published with the permission of Grady Harp. Like what you read? Subscribe to the SFRB's free daily email notice so you can be up-to-date on our latest articles. Scroll up this page to the sign-up field on your right.