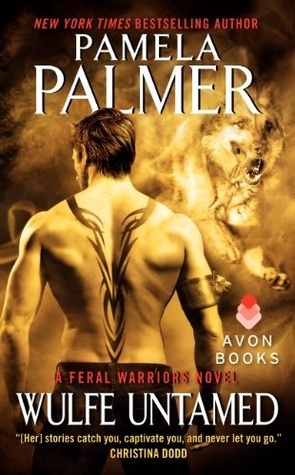 The final battle, the ultimate bad guy take down and the mess it makes and the people it saves all help in delivering an action packed story and satisfying happy ever after for this long awaited romance between Wulfe and Natalie.
I wouldn't classify this as a standalone because the groundwork for the relationship between Natalie and Wulfe was built a couple of books ago. A reader needs to have read the previous adventure in which they met. It helps explain why their getting together is so poignant, special and powerful in Wulfe Untamed. They weren't allowed to be together initially because of dire circumstances and a few tormented decisions that Wulfe had to make. It was sad when they had to part and it was even more heart wrenching watching him pine for a women he could never have. Talk about unrequited love and putting the needs of the many before his own. It was very emotional.
The action starts practically right away when the bad guys find Natalie. She doesn't remember them, doesn't believe Wulfe and has a hard time wrapping her brain around the chaos and horror that suddenly surrounds her. I liked Natalie because she was quick on the uptake and followed her gut feelings. She trusted Wulfe when she knew she shouldn't but because of the previous story, it made perfect sense to me. She didn't remember him, but some part of her did and that allowed for what happened next.
There are a lot of folks that populate this tale that made it a wonderful reading experience for me. I was excited to see so of my favorite heroes and heroines who had had their own stories in the past show up in this tale to help out Natalie and Wulfe. But the best thing about this particular book is the eventual well rounded happiness. It's hard won with a lot of fighting, bloodshed, horror, pain, death, strategizing and brute strength, and even a few amazing jaw dropping surprises delighted me, before an allover happy ever after could be realized. When it does happen, it's simply wonderful, uplifting and it gave me the sniffles. For the final book in the Feral Warriors series, Ms. Palmer saved the best for last.
Wulfe was heavily scarred and unlovable. At least, that is what he thinks. The reasons for the intense scarring were heroic and tragic. He was a true tormented hero so seeing him find his one true love had me melting into a pile of delighted shivers. And the epilogue embraced all of the men who never believed they could find love. The ending was pure pleasure and enjoyment and it made all the trials and tribulations that went on before worth it. I know I had a goofy smile on my face when I read the last few paragraphs.
Ms. Palmer has an excellent grasp for action words and descriptions. The battle came alive for me and I was highly entertained never mind that I couldn't put the book down. The drama was that intense. The dialogue fit, flowed well and the editing was perfect. All in all Wulfe Untamed can be touted as another gem to add to the author's string of hits. It's well done, worth reading and I highly recommend it.
Editor's note:
This article was originally published at Long and Short Reviews. It has been republished with permission. Like what you read? Subscribe to the
SFRB's free daily email notice so you can be up-to-date on our latest articles. Scroll up this page to the sign-up field on your right.