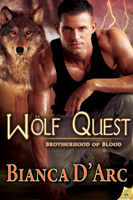 Wolf Quest is the latest of Bianca D'Arc's Brotherhood of Blood books, and as with the others in this series, she is starting to bring together the threads of stories and crossing over from her Lords of the Were world as well.
When Jesse Moore and his team head to Iowa to check on his new sister-in-law's cousin, his team gets there just in time to hear the sounds of a violent struggle in her home. But when he breaks down her kitchen door to help, he sees that the woman has things well in hand, having disabled one of her attackers and well on the way to stopping the other.
Maria Garibaldi is no stranger to magic, and she knows of the existence of shifters and other 'mythical' beings. But when Jesse tells her about her cousin, Maria is skeptical at first. When Jesse realizes something else, that Maria is his mate, he is determined to keep her safe. When they discover that she has been targeted by the evil Venifucus, he is more than ready to get her to safety. As they are checking out the animals in her sanctuary, Jesse discovers that one of her cages holds a wounded adolescent bear shifter, one of the most magical of the shifter species. Maria is stunned to learn this, and very embarrassed to have caged the young teen. When they learn that his parents were captured, and are being held and drained of their magic, Jesse and his team, along with Maria and Zach, head to the eye of the storm to rescue Zach's parents and stop the deadly plans of the Venifucus. As they travel, Maria knows her destiny is with Jesse, if they can survive this ordeal, and she also discovers the magic in her bloodline. Can this team free the grizzlies and stop the evil from spreading? Will Maria accept a future with Jesse and magic in it? Is Maria ready to meet the extended family she never knew she had?
I enjoy catching up with prior characters and learning where they fit into the extended families of this world. The characters here are well defined, and the chemistry between Maria and Jesse is compelling.
Jesse Moore is every bit the alpha shifter, but with his background, he is better suited to the job he does, and is happy to leave the role of Alpha of the Wyoming pack to his brother. Jesse is the protector, the warrior who doesn't do diplomacy well, and would rather fight his own and the pack's battles with his chosen band of fighters. He is strong and loyal, determined to fight evil where he finds it. When he sees Maria waging her own battle against the agents of evil, he is impressed at first, and drawn to her on many levels. When his wolf recognizes its mate, Jesse is ready to fight for her, and claim her. I liked that Jesse accepted his wolf's feelings, while trying to give Maria some time.
Doctor Maria Garibaldi knows about magic, and shifters, and comes from a more than human family. She just doesn't know it. She is strong and independent, well able to take care of herself, but she is almost instantly drawn to Jesse. Although she has some doubts about the claim she is related to his sister in law, she keeps an open mind, and with Jesse's help, discovers a depth to her more magical side that she never knew existed. I liked watching Maria grow into her magic and her passion for Jesse is so honest and open, it is a joy to watch.
There are several different storylines here, and all are quite intriguing. Ms. D'Arc brings everything to a satisfactory conclusion, while still indicating that, while beaten this time, the evil Venifucus is not yet out of the game. I liked how the threads of the stories overlapped a bit, and how relationships between the characters start to intertwine. There is the rescue of the bears, Jesse's finding his mate, and Maria discovering her heritage linking her to people she liked and respected. This one is a hot and passionate romance, with lots of danger and action that kept me on the edge of my seat.




Editor's note:
This article was originally published at Long and Short Reviews. It has been republished with permission. Like what you read? Subscribe to the
SFRB's free daily email notice so you can be up-to-date on our latest articles. Scroll up this page to the sign-up field on your right.