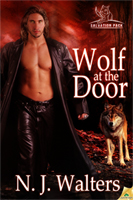 In Wolf at the Door, N.J. Walters builds a small community of werewolves, united in their desire to escape the cruelty and archaic beliefs of their Louisiana pack.
Meeting a man at midnight in a cemetery may not have been the most intelligent thing Gwendolyn Jones ever did. But the man promised her information she could use in her paranormal romance novel; information the man believed to be fact, although Gwen herself was sure the man was just another kook with a highly developed imagination. After all, only a kook would insist that werewolves are real, right? Back home, with the information on the flash drive the man provided, Gwen is interrupted by two hot, gorgeous men, men who transform into wolves before her eyes, and kidnap her to keep the story from getting out.
Jacque LaForge and his brother Louis don't want to harm Gwen, but they know that their father will be sending someone to kill her…soon. Jacque and Louis, along with three others, left their Louisiana home and came to Salvation, North Carolina, to escape the outmoded ideas and cruel practices of their father Pierre, and form a small but strong pack of their own. When Jacque realizes that Gwen could be his mate, he is more determined than ever to keep her safe, but there is another problem; she could also possibly be a mate to Louis, and Jacque isn't willing to share. Can Jacque keep Gwen safe from the assassins his father sends, and convince her to stay with him as his mate? Will Gwen learn to trust Jacque and the pack, once she realizes that there is no going back to her old life? Or will Jacque's father find a way to destroy what Jacque has worked so hard to build, even Jacque's mate, Gwen?
I like the world Ms. Walters has created here, and the charismatic characters that inhabit this place. Ms. Walters has a way of giving each of her characters some unique characteristic that sets one apart from all the others: Jacque has the strength, Gator is the amiable one, Cole is the gentle giant and so on with each of the five men here. And Gwen is the perfect heroine, determined to stay alive long enough to get away…at least at first. I enjoyed visiting Salvation pack, and hope there will be more in the future with this small but fiercely loyal pack.
Gwendolyn Jones is smart, determined and very independent. When her world is turned upside down by the knowledge that what she always thought of as fiction, werewolves, is in fact very much her new reality. Once she realizes that she is in no danger from Jacque and his pack, she learns to accept the security they are offering, but still holds on to the hope she can one day return to her old life. I like Gwen for her sassy attitude and her determination to keep moving on when life has thrown her a curve ball. Watching as she slowly grew to first trust, then love Jacque, and to respect and trust all of his pack was a true delight.
Jacque LaForge is strong, sexy and loyal to his close friends. When he first learns what Gwen has uncovered, he is determined to get the incriminating evidence back and keep her safe from his cruel and unscrupulous former pack, lead by his father. When he realizes Gwen could be his mate, as well as possibly his brother's, he is more determined than before to keep her safe and win not only her trust, but her love. I like Jacque, because he was always honest with Gwen, and let her come to terms with her new life at her own pace. I like his patience, and really felt his love and caring for his friends as well as his mate.
There is passion, romance and also some danger in this. I like that the characters are, at times, vulnerable; not physically but often emotionally scarred and wounded, and that they are there for each other no matter what. There is a story behind each character, and I look forward to learning more about amiable Gator, quiet and massive Cole, scarred and quiet Armand and of course, Louis, the brother who just misses getting the girl…this time. The danger that comes from Louisiana shows Jacque and his pack that they need to step up their game, and increase the protection to keep Gwen safe from harm, and I found that each turn in the road brought choices for both Gwen and Jacque to face. Ms. Walters has written a fast paced roller coaster of a story, and I could not put it down once I started. I would recommend this for shifter lovers, romance lovers and I recommend you keep tissues and ice near to hand.
Editor's note:
This article was originally published at Long and Short Reviews. It has been republished with permission. Like what you read? Subscribe to the
SFRB's free daily email notice so you can be up-to-date on our latest articles. Scroll up this page to the sign-up field on your right.