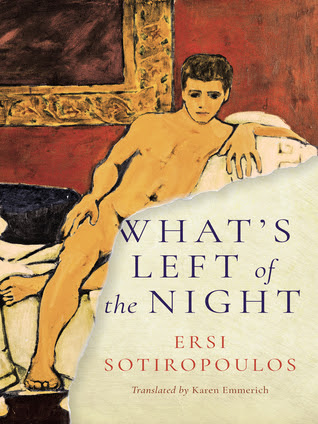 The problem was Alexandria, the city stifled him'.
Constantine Peter Cavafy (1863 – 1933) was an Egyptiot Greek poet, journalist and civil servant. His consciously individual style earned him a place among the most important figures not only in Greek poetry, but in Western poetry as well. Cavafy wrote 154 poems, while dozens more remained incomplete or in sketch form. A gay poet, among is many awards was his nominations for the Lambda Literary Award for Gay Men's Poetry.
What Ersi Sotiropoulos offers in this luminous book is a sensitive insight into the formation of Cavafy's artistic career beginnings as well as his sensual leanings. Ersi has written fifteen books of fiction and poetry and has been twice awarded Greece's National Book Prize as well as her country's Book Critics' Award and the Athens Academy Prize. This book, WHAT'S LEFT OF THE NIGHT, won the 2017 Prix Méditerranée Étranger in France.
In this translation by Karen Emmerich the poetic approach to this biographical view of Cavafy shines. A brief passage from the opening of the book – 'And if the lovers don't respond to your touch? he thought. If they're warm, soft-skinned statues that receive all caresses with the indifference of works of art? That Platonic idea enticed him, but only to a point. The object of desire was so distant, so close. Lips, limbs, bodies. Lips, gasping mouths. That was what he should write about. So close, so distant. That was the purpose of art, to abolish distance. He recalled the figure of a youth from years ago. Had it been in Constantinople? Yeniköy? A beardless youth working as an ironmonger's apprentice, and as the boy bent half naked over the anvil, sparks flying onto his glistening chest, he saw his face lit heroically, imagined him crowned with vines and bay leaves. They hadn't spoken, and he never saw him again. Who would write about him? Who would heave him up out of the oblivion of History?'
And that is the eloquent manner in which this gaze into the mind and life of Cavafy is related – a prolonged poem, worthy of the subject of the memoriam.
Editor's note: This review has been published with the permission of Grady Harp. Like what you read? Subscribe to the SFRB's free daily email notice so you can be up-to-date on our latest articles. Scroll up this page to the sign-up field on your right.