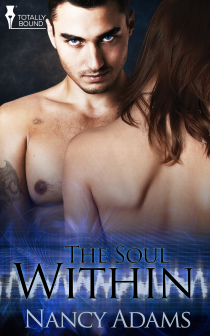 What would you do if your soul became unattached to your body and the one woman who could put you back together again was too terrified to do it?
When Alex becomes separated from his body after his friend and partner Miles betrays him, he is stuck in limbo, watching as his body lays there in a coma. When a ghost visits him and points the way to a healer who just might be able to help him, he decides to take a chance and find her. Eve sees and hears the gray man but tries to put him out of her mind. He can't be real. With the past riddled with scars, Eve knows better than to risk her daughter and peace of mind getting involved with someone wanting to pair back with their body. The problem with making plans like that doesn't include a very sexy median who just won't take no for an answer.
This book hooked me right away and I would have given it 5/5 except that I spent way too much time wondering if median was really another word for medium. It would have been helpful to describe what being a median was to make it easier to understand right off the bat. The characters were practically breathing off the page and the sex scenes were so hot, I wanted to get out my laptop and take notes. Seriously. Nancy Adams just about scorched my socks off with her detailed descriptions regarding every touch and delicious sigh. I'm going to have to read it again just to revisit those moments. That is how you write a love scene, piece by splendid little gesture and touch-it was wonderful.
The story line itself, other than my issue with the median question, was terrific. Secret agent style character fighting a war against corrupt individuals to protect society's innocents-perfect. As Alex figures out it was his partner who betrayed him, his feelings for Eve develop into something he is not prepared to handle, nor is he ready for. In fact, he was a class A not nice sort of guy if you catch my drift. Great negative traits going on there and a growth of character that made the story glow. The humorous moments had it all as well-great snark just when it was needed and ghosts that give as good as they get. Very nicely done.
Eve is tender hearted and has the talent to merge souls and bodies together. Women in her family have a gift and it allows them to live prolonged lives and sooth with their voices. A tragic merging scarred Eve and she is terrified to try again. Especially as she begins to care for Alex and things go from strange to very, very complicated. She has her family to worry about and Alex could put everything at risk. Especially her heart.
Multiple plot lines converge as Alex and Eve race against time to save a woman from Alex's partner, turned criminal and murderer. Will they reach her in time? Will Eve be able to save Alex in time before Miles figures out that things are not as they appear to be? Will Alex realize at last that in love, risks are meant to be taken, especially with someone as special as Eve. Add in some great characters like Eve's grandmother and a smart mouthed ghost and you have a plot that keeps on going.
A great and suspenseful read with some knock your socks off sex scenes that will make you glad you picked up this book. I am eager to pick up more titles by this author.



Editor's note:
This article was originally published at Long and Short Reviews. It has been republished with permission. Like what you read? Subscribe to the
SFRB's free daily email notice so you can be up-to-date on our latest articles. Scroll up this page to the sign-up field on your right.