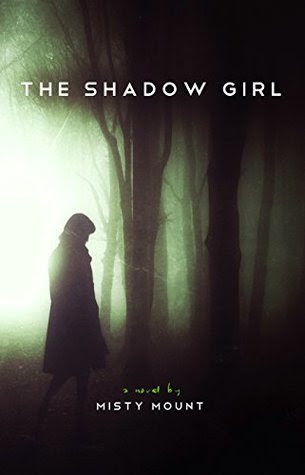 'I know we're only going on fourteen here, but I have our entire future planned?'
Kansas author Misty Mount published THE SHADOW GIRL in 2017 and has since published at least one other novel. Reading her initial book suggests she will be a continuing presence on the literary front.
Approaching the paranormal/science fiction fantasy world can be daunting to many authors, but begin reading Misty's book and it becomes evident that she is quite at home in this genre. 'I have always known that I am invisible—even way back then, when it first started to happen. In fact, it goes back even further; in my earliest of memories and for as long as I can remember, the sense of being unnoticed was there. I think it started on a muggy day when I was six years old. I can still feel the excitement as my grandmother poked her nose through the living room drapes and announced that it was dry enough to make a trip to the neighborhood park. It had been raining for nearly a week straight, and I was glad to be free of the stuffy, dim rooms in our old home. It had become my prison that summer, a place where my older siblings would unleash their rainy-day boredom in the form of self-esteem-crushing torment. We had watched as Grandmother pulled out the wagon from the shed and loaded it to the brim with goodies for a picnic lunch. It seemed like an eternity before we were finally following her down the cracked and uneven sidewalk. I was last in line behind my two older siblings as we passed by the familiar row of tall, skinny houses. Each home was built on a thin strip of a lot and looked identical to ours in structure and design. Grandmother had taught me that ours was the one with the black iron letters that read 3386. But I recognized it by the faded blue-gray paint and gaudy wrought iron shutters that overpowered the face of our family home. Blossom Park was four blocks up the street, and—much to my disappointment—had never lived up to its name. There was not a bud, bloom, or flowering shrubbery anywhere to be seen. Instead, the postage-stamp-shaped piece of land was fitted between two brick buildings and flanked by a parking lot on one end and a tall chain-link fence that overlooked an alley on the other. I was happy to be in the sun, nonetheless, even if it did happen to shine down in patchy pools of light over paint-chipped play equipment and a weed-encroached sand pit.'
Misty provides a brief synopsis as a path to where we are entering her world – 'Shy, thirteen-year-old Zylia has always known she was different. Most teenagers feel unnoticed and unseen, but for Zylia, it's something much worse. She's disappearing from this world and doesn't know how to stop it. At times, she's not sure she wants to. Until she stumbles across a family mystery surrounding the disappearance of her great-aunt Angelica years earlier. During her quest to unravel the mystery, Zylia discovers she's able to cross the boundary and enter the "in between" world. Now, it's up to Zylia to save herself before she's trapped "in between" forever.'
Beautifully written with a style that matches the bizarre (but seemingly credible!) world, THE SHADOW GIRL enters our psyche as we follow her journey.
Editor's note: This review has been published with the permission of Grady Harp. Like what you read? Subscribe to the SFRB's free daily email notice so you can be up-to-date on our latest articles. Scroll up this page to the sign-up field on your right.