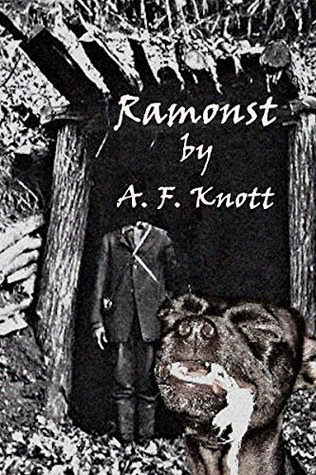 'Last winter I became fed up with the incarnation of evil showing up in my nightmares and decided to do the opposite of what it expected.'
American author A.F. Knott lives in England and now focuses his elaborately colorful life on writing and collage art. After college his jobs are as varied as a kaleidoscope - he worked in Louisiana's offshore oil industry, a parking lot attendant, lunch deliverer, thoroughbred handicapper, paper broker, cyclotron engineer, PET operator, and family physician! Enough experiences there to supply an entire library of books!
But that is one of the many reasons Knott's skill in writing is so intoxicating – his rich imagination tinged with sensitivity to social issues, mind alterations, dreams, nightmares, and the raw flavors of Southern Gothic humor and terror. Another attribute is Knott's unique, flavorful writing technique – he writes in short chapters punctuated with conversations alternating with the main characters thoughts, cleverly placed on the page in italics.
The plot may at first seem like vignettes or disconnected moments, but keep the eye on the page and it all flows together to allow us entry into a susceptible eleven year old lad's perception of his world – real and imagined.
The author supplies a nod to a synopsis – 'Hidden in the mountains of East Tennessee, an eleven-year old goes about the business of being a boy during the summer of 1970. Within a balance of terror and innocence, he bears silent witness to ghosts of the dead and the cruelties of a teenage killer while local justice plays out in a community carved from legacies of coal mining and religion.'
A taste: 'I pulled the shade down and listened to my mother. She was speaking about Uncle Andy. When he was my age, he had a dog that foamed at the mouth. 'Everywhere that dog went, Andy would follow him." "Why did he follow him?" "I don't know why. Every single day after school he followed him, repeating his name. I heard him saying it: Ramonst, Ramonst, Ramonst, Ramonst, Ramonst. For months this went on." Ramonst did not sound like a dog's name to me, so I asked if she was sure about that. "Yes, Ramonst. That's the name he gave him. Repeated it over and over and over and over and over. One day Andy came home from school and started in on the dog, but Ramonst didn't move. He sat in the hallway staring at Andy then started foaming at the mouth. Mother had Ramonst shot, and they sent his brain over to the University of Tennessee. After running all the tests they still didn't know what caused Ramonst's foaming." I couldn't stop thinking about Ramonst after my mother told me that. Even though she said they never found out what caused the foaming, I asked: "What do you think caused Ramonst's foaming at the mouth?" My mother spoke quickly. "I think Ramonst couldn't take all that is what I think. Dear Lord, every day I'd hear him saying it: Ramonst, Ramonst, Ramonst, Ramonst, Ramonst. I would foam too."
This novel is pure diversion, in the most complimentary sense of that term. AK Knott makes us want to read more.
Editor's note: This review has been published with the permission of Grady Harp. Like what you read? Subscribe to the SFRB's free daily email notice so you can be up-to-date on our latest articles. Scroll up this page to the sign-up field on your right.