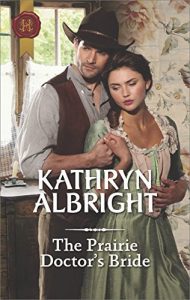 I first became aware of the author, Kathryn Albright, when I reviewed "Mail-Order Brides of Oak Grove". "Mail-Order Brides of Oak Grove is one book with two stories. One story is written by Lauri Robinson, "Surprise Bride for the Cowboy". The other was Kathryn Albright, "Taming the Runaway Bride". Even though it's two books in one, they are connected by sharing the setting and characters. I still think that is the best book I've ever read. I still don't understand how two authors could write a book sharing some of the characters and yet I didn't feel like I was reading a book written by two authors. If I could be morphed or transported anywhere I'd choose to be transplanted into Oak Grove, Kansas to live among all the townsfolk. I would love to personally meet all the characters I've grown to love. After reading and reviewing "Mail-Order Brides of Oak Grove" I reviewed "Winning the Mail-Order Bride by Lauri Robinson which introduced Fiona Goldberg and Bret Blackwell, who make an exciting appearance in "The Prairie Doctor's Bride". There is one other book that I reviewed before "The Prairie Doctor's Bride" that involved my favorite town of Oak Grove and that one is "Western Christmas Brides". That book has three stories in it but the one that is relevant to this review is "A Bride and Baby for Christmas" by Lauri Robinson. I just can't get enough of this Oak Grove utopia. A reader does not need to read all the other books prior to "The Prairie Doctor's Bride" but I think I loved "The Prairie Doctor's Bride more because I have read the other books. When I saw "The Prairie Doctor's Bride" posted I knew I just had to read it. The fact that Lauri Robinson was the author who introduced Fiona and Bret yet they made an appearance in Kathryn Albright's book, "The Prairie Doctor's Bride", made me feel again that Kathryn Albright and Lauri Robinson are in fact the same person. Yet when I Googled their names, my theory is wrong. All I can say at this point is that I will continue to read any book written by these two authors and most definitely if it is set in Oak Grove, Kansas. I know that there are still some eligible bachelors in Oak Grove. I hope they continue the series.
With all that being said, The Prairie Doctor's Bride was a heartwarming novel. I'm not sure if I'll ever stop suffering from this Oak Grove, Kansas book hangover; which is the inability to start a new book because I'm still living in the last book's world. This novel as all the makings of a great love story.
Sylvia Marks, the heroine and the hero, Dr. Nelson Graham are an admirable couple. Together they are entertaining and emotionally exhausting in a rewarding kind of way. They are both incredibly relatable as are all the cast of characters which is one of the reasons they are unforgettable. It was nice to see Nelson find his match. He was introduced in Mail Order Brides of Oak Grove in the first story "Surprise Bride for the Cowboy" by Lauri Robinson. That book ended with a plot twist involving the doctor that I didn't see coming. I remember it had me smiling like a silly goose long after I finished the book. I typically don't read series but in case you couldn't already tell, I am in love with this one.
When I started reading The Prairie Doctor's BrideI was overcome with this comforting and familiar feeling. It was like going home.
I guess I'd compare this series to Little House on the Prairie in some ways but better. There were friendly and not so friendly town folk. There was Mr. and Mrs. Gallagher who ran the Oak Grove mercantile. Neither one of them were welcoming to Sylvia. They'd be an example of the not so friendly town folk. The not friendly town folk added the conflict to the story which made it interesting. Then there were mishaps that happened from living on such harsh lands. There was always something happening that made me want to turn the pages. The writing style was fabulous. The plot was fun and creative. I can't think of any constructive criticism. This book was a pure delight.
If I could give an award out to best series it would be to this one. There is just something about it that has hit home with me. I heartily recommend all the books I've mentioned in this review. They are books I've put on my keeper shelf. Lauri Robinson and Kathryn Albright are two authors that I would consider actually collecting their books. They make me happy and feel good. The Prairie Doctor's Bride made me feel courage and hope.
The Prairie Doctor's Bride had the best ending. I'm going to end with that. I totally recommend spending time with this novel to all readers and to consider purchasing the other books in this series!



Editor's note:
This article was originally published at Long and Short Reviews. It has been republished with permission. Like what you read? Subscribe to the
SFRB's free daily email notice so you can be up-to-date on our latest articles. Scroll up this page to the sign-up field on your right.