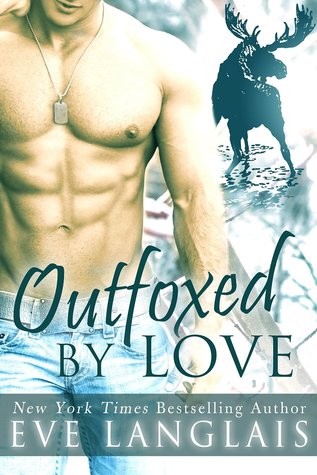 Moose puns are fun. One of the things I've noticed about Ms. Langlais's stories is her clever and chuckle-worthy use of animal appropriate metaphors and dialogue. I found myself laughing or giggling when I least expected it many times throughout reading Outfoxed by Love.
This story picks up where the first book left off, but coming from Jan's point of view. The story is told in both the hero and heroine's POV so I was able to see how their internal crises affected them and the domino effect it had on the people and environment around them. I'd say this book could be a standalone read but why would someone not want to have the full effect? I think I enjoyed this story more because I had read the first one.
Boris, the hero, is full of himself. He's confident in his skills and abilities and he's equally confident that he's so emotionally damaged by his torture and captivity that he's no good for any woman, especially the fox of his dreams, Jan. He's the epitome of a tortured hero – with a snarky sarcastic streak.
Jan isn't a fox in name only; she's got the claws to prove it. The heroine also has an epiphany – she's been courting her moose all the wrong way. Once she figures that out, the fur flies and the moose bellows sound and I was highly entertained.
What Jan didn't count on, and what had me snickering at Boris's and hers embarrassment and discomfort, was the arrival of Jan's parents. They were a great addition to the story and added an extra fun factor to the plot. Her dad is also a very sneaky guy and has some serious skills of his own bordering on scary. I was most impressed. The heroine's mom is no slouch either. In my review of the first book in the series, Kodiak's Claim I met Gene, the villain. I had an issue with his badness because I saw hints of something redeemable. I wasn't the only one because Jan's mom saw it too and I was tickled that Gene might be able to be saved. I had my doubts with the big battle though. There was a lot of blood spilled and I thought for sure he was going to meet his end as all evil villains should.
Dastardly deeds aside, the romance between Boris and Jan was cute, frustrating, funny and exciting. When Boris finally gets over himself and allows himself to lose control with his lovely fox, sparks and fireworks exploded and, because the writing was so well done, was excellent to read and highly enjoyable, not to mention very sensual and spicy, I had fun.
There is another underlying plot thread that Gene was directly involved with in the first book and it carried over into Outfoxed by Love. However, it gets twisted and Gene does something that makes me think Jan's mom's assessment is spot on. Only time will tell, but now I'm very excited to read the next book in the series.
Outfoxed by Love sure kept me on the edge of my seat, especially when the battles were fought. I enjoyed watching Boris rescue Jan and her rescue him right back. They're a great couple and totally made this book worth reading. Ms. Langlais has a great thing going so far with this series and I can't wait to read more. I feel like a kid who's discovered a new flavor of candy and can't get enough.



Editor's note:
This article was originally published at Long and Short Reviews. It has been republished with permission. Like what you read? Subscribe to the
SFRB's free daily email notice so you can be up-to-date on our latest articles. Scroll up this page to the sign-up field on your right.