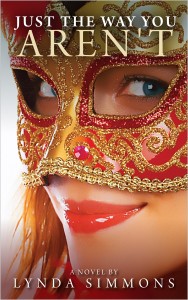 This story reads like a Harlequin made for T.V. movie back in the early 90s, Sincerely, Violet with Simon MacCorkindale. It's a quirky obscure little romance but even after all these years, I remember it fondly. The premise is the same as this book's – a heroine changing her appearance and assuming another personality to reach an objective but falling in love complicates everything and she has to come clean, eventually. Just the Way You Aren't has a much better and more believable storyline and I quite enjoyed myself.
The author sets up a reader by giving only surface descriptions – what everyone sees and assumes and is very one dimensional. Enough is shared for a reader to buy into the stereotypes and as soon as it seems that Michael Wolfe is a cold hearted man, and Sunny's a frumpy, frizzy-haired air-headed artist, Ms. Simmons blasts those perceptions to pieces and delivers a hero with a very guarded heart, and a heroine with a passion and goal for life that rivals the hero's determination to remain uninvolved in life. They collide and the romance is magic.
An element of the story that was crucial in making me feel deeply for both the hero and heroine was Jess, Sunny's daughter. She's a precocious young lady and very important to the tale because the author never forgot that Sunny was a mom first. The interactions between mother and daughter were oftentimes adorable, sweet and very true to life. There are moments when Jess acted or spoke as much older than her years so wasn't true perhaps to the age she was purported to be in the book. That doesn't take away from her sweetness or ability to help the plot when she's on scene. For the most part, it worked and worked well – especially with the scenes with the chalk and the rose.
One of the internal/external conflicts was between Sunny and her mother, Moyra. At first I thought she was a good character until she wasn't. I'm waffling between considering it a helpful conflict or an unnecessary one. At first I liked Sunny's mother, and then I really, really didn't. She started acting unnatural and weird, controlling and snippy. The author continued to have Sunny treat her mother with respect but I am of the mind that her mom needed to be put in her place a long time ago. Sunny was a much more patient and loving woman than I would have been. Then again, family dynamics can be extremely weird. Readers are going to have to decide for themselves if Moyra was a help or a hindrance to this tale. A reader is left in no doubt as to Moyra's preference.
I liked Val, Hugh, Duane and the Glasgow Ladies and found them to be definite assets to this novel. Jack was not explored enough to make a huge impact on me; he was just her dad – mostly quiet but with a subtle quirkiness all his own.
I enjoyed the dialogue, the descriptions and the romance. I liked how the author showed the progression of their falling in love, and enjoyed the scenes of seduction. When they finally were able to fulfill their passions, the terrific writing made it worth the wait – very sexy and sultry.
The final two chapters are powerhouses of emotion, confrontations, revelations and healing. Everything that happened in the previous chapters created the foundation for an amazing, gripping and heartfelt conclusion that thoroughly satisfied the romantic inside me. Just the Way You Aren't is a must read for fans of character driven romances that deal with families, new beginnings and letting go of the pains and disappointments of the past. It's actually a wonderful, happy romance and I definitely recommend it.



Editor's note:
This article was originally published at Long and Short Reviews. It has been republished with permission. Like what you read? Subscribe to the
SFRB's free daily email notice so you can be up-to-date on our latest articles. Scroll up this page to the sign-up field on your right.