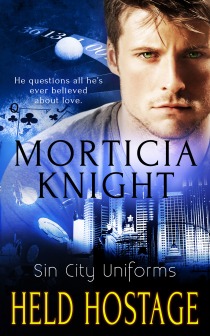 As a member of the SWAT team for the Las Vegas Metropolitan Police Department, Cole Silva has seen and done it all. He's taken chances and risked everything – everything, that is, but his heart. So when he's called to a hostage situation at the Fashion Show Mall on the Las Vegas Strip, he winds up with more than he bargained for in the form of Brett Langevin. Cole knows he can save Brett, but can he save himself from Brett's charms?
Having remembered Brett from his brief appearance in Copping an Attitude, I was looking forward to getting to know him better. Parker, from book two, had liked Brett, but not enough to have had a committed relationship with him, and that always intrigues me. As it turns out, he's probably the most normal, stable heroes in any of the Sin City Uniform books so far. Now, that's not a bad thing either. I love a good boy-next-door sort of guy, especially when he's paired with someone as unconventional as Cole. By the end of the book it was official – Brett is my favorite guy out of all the previous books to date. His character moves from indecisive and eager to please (even at the expense of his own happiness) to someone willing to make his own choices and mistakes. It was an experience watching him grow comfortable in his own skin.
Cole, on the other hand, I wasn't so familiar with. It was mentioned that he appeared in the previous book, Justice Prevails, but I don't remember him. His role was small, but the author is really good at introducing someone in an earlier book and bringing them around for their own story later, which is really what makes this series so addicting to me. Just when you think you've met everyone, there's always someone else sneaking in the side door. Cole is definitely a harder, more difficult character to get to know. Ex-military as well as a current member of SWAT, he's intense, focused, and pretty closed off emotionally. Because of this, he ticks me off a few times during the course of the story, but not enough to make me stop reading. His actions are expected to a point, but still ruffled my feathers a bit. Mostly because I was already partial to Brett in a lot of ways.
Held Hostage is, for me, the best book in this series to date. There are a couple of problematic areas, like the lack of actual help for Brett after he was held hostage, but within the confines of a short novella, I know that things do sometimes get left on the cutting board. That said the hostage situation itself is well done and intensely written, really drawing you in and holding your attention. I felt like there were moments where Cole was a jerk for no reason, but in retrospect, those times actually forced Brett to push past his insecurities and have necessary character growth. With each installment getting better and better, I'm anxious to see what Ms. Knight has in store for us with the next in this series.




Editor's note:
This article was originally published at Long and Short Reviews. It has been republished with permission. Like what you read? Subscribe to the
SFRB's free daily email notice so you can be up-to-date on our latest articles. Scroll up this page to the sign-up field on your right.