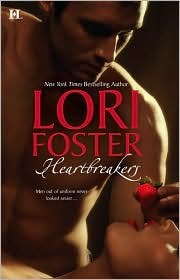 What's not to like about a fireman and an EMT? Especially when they are die hard bachelors who don't have time to pursue love and fate decides to send them their exact opposites to tease and confound them. I loved how the two men were so different and the women that tamed them were unique and fun to get to know. Having two fun stories in a row is the perfect weekend treat and I enjoyed every moment because the one thing Ms. Foster knows how to do is write romance.
The first story was Treat Her Right which follows a man who works grueling hours as an EMT. His free time is spent exclusively with one woman, his four year old daughter, Dani. The author makes it very clear early on that Zack's main love of his life is his daughter. Their dialogue and interaction was cute, oftentimes funny and it gave the hero's character emotional depth. It's Dani that breaks the ice with the new neighbor and once that door was opened, it was a wonderful journey of discovery.
Wynn is a unique heroine. She's tall, she's rough and she has some wicked self-defense moves. She uses her techniques on Zack much to his chagrin and my delight. I love how Ms. Foster gave her heroine unruly hair and I laughed out loud when I met her parents for the first time. It was comedic and charming and Wynn ends up being perfect for Zack. Of course, he fought it like a stubborn bachelor would. It was Dani who recognized the possibilities that Wynn represented and she liked them, a lot. Kids are smart that way.
The camaraderie between Zack, Mick and Josh was pure entertainment. Throw in Wynn's eccentric but well-meaning parents and the author presented a wonderful backdrop community to support Zack and Wynn's romance. Add in the other muscle guys and there were many moments of ear to ear grins.
When Zack and Wynn finally get to scratch the sensual itch, it was very steamy. The hammock scene was hot and the hot tub scene was sexy and cute too. The physical side of their romance was well written and very romantic. I liked how Ms. Foster wrapped up the story because it made me smile. I enjoyed myself immensely reading Treat Her Right.
The second story was Mr. November. It made all the sexy hot posters of bare chested firemen in turnout gear that I've ever seen come to life in glorious complexity. Josh was the playboy in Zack's story but this time around he's found a lady who confounds him, challenges him and confuses the heck out of him. What kind of woman can make a fancy free bachelor toe the line?
Amanda, the calendar organizer, is Josh's Achilles heel. She is the one with the issues and they are a real stumbling block to romance – as far as she is concerned. She is hard on herself but her standoffish attitude doesn't protect her from Josh. I liked seeing her emotional growth under his care. Of course his 'care' isn't the normal kind, which confuses her and has the heroine bemused much of the time. His tenderness, his seduction techniques and his perseverance wears her down so she eventually shares with the hero her internal pain. It's Josh's reaction that has her daring to hope in the impossible. I liked the dance between the two as they got to know each other and I felt it was the strongest appealing aspect of the story.
Whereas with Zack's story the sex occurred early on in the tale, with Josh it was a slow, simmering buildup that had me flipping the pages in earnest. What was Josh going to have to do or say to convince Amanda to take a chance on him and on their budding relationship? The answer was very romantic, yet I imagine very painful for Josh. He really showed his heroic colors in this story for sure, most certainly his patience and commitment to loving Amanda. How can a book get any more romantic that that?
The epilogue wrap up was sweet, all-encompassing and satisfying. I love a good happy ever after.
Heartbreakers is a must have for fans of Ms. Foster. It has everything I love about her books; sexy alpha men, strong female heroines and delightful emotional characterizations that make me care about them, enough to make me cheer and get giddy happy when the romance comes to fruition. Even though it's a two book novel, it was a fast read because it flowed so well, the dialogue was awesome and the dynamics between the primary characters and secondary characters were so well grounded yet unique and entertaining. I completely enjoyed myself while reading this book and I definitely recommend it to romance readers everywhere.
Editor's note:
This article was originally published at Long and Short Reviews. It has been republished with permission. Like what you read? Subscribe to the
SFRB's free daily email notice so you can be up-to-date on our latest articles. Scroll up this page to the sign-up field on your right.