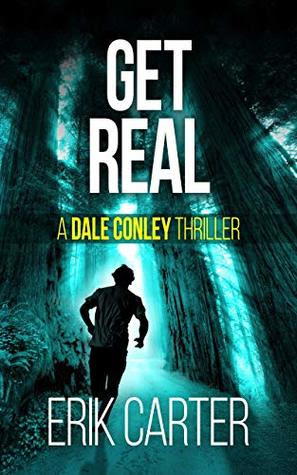 'Where, oh where is Jonathan Fair?'
Florida author Erik Carter has been a television host, a documentarian, and a college teacher. He is highly regarded as a writer of suspense thrillers – the Dale Conley Action Thrillers Series for which GET REAL is Book 4.
For those for whom this is the first exposure to this stunning series, we learned in Book 1 that 'Dale Conley thought he could escape his past. He was dead wrong. Dale works in the shadows—but he's never seen anything this dark. When a town's entire population is abducted overnight, Dale's only clue is a cryptic, historical message chiseled into a stone. As Dale scrambles to put the pieces together, he's faced with the demented kidnapper's escalating demands. It's only when survivors begin to reappear—maimed, broken, dead—that Dale realizes the kidnapper knows about Dale's dark past. Now Dale must clash with his own demons to have any chance at saving the missing people.
Now two years later – and three books later – we find the synopsis fills us in on the current status of our hero. 'What's Right? What's Wrong? What's Real? Dale Conley is struggling to be the voice of reason—because everyone around him is losing their minds. San Francisco is in a panic. The entire city is hunting Jonathan Fair—son of a prominent crime family, sufferer of manic hallucinations, imprisoned bank robber … and recent escapee. With the world watching and as the crimes pile up, Dale feverishly tracks Fair, whose mind has convinced him he's living in a different time, making his actions erratic. And almost impossible for Dale to decipher. Meanwhile, other, darker forces are using the circus surrounding the Jonathan Fair manhunt to move into position, poised to strike a blow to San Francisco…'
Read the first chapter and you realize that this is an important new voice in the genre of action and suspense thrillers. Erik creates refreshingly new characters in novel circumstances, but at the same time he never lets us forget that Dale Conley is there to resolve the tale. Book 5 is on its way! Recommended.
Editor's note: This review has been published with the permission of Grady Harp. Like what you read? Subscribe to the SFRB's free daily email notice so you can be up-to-date on our latest articles. Scroll up this page to the sign-up field on your right.