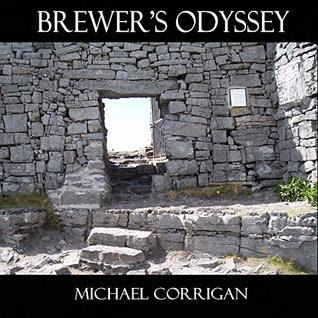 "That's part of the illusion – turning lies into fun"
California author Michael Corrigan, born in San Francisco and studied Creative Writing at San Francisco State, has so much Irish in his genetic code that his books are near definitive resources of Irish culture. But much the same can be said of his intuitive knowledge of the history and ambience of San Francisco - both subjects picture strongly in his writings to date. He embraces the Irish American experience and is passionate in his sharing of that subject not only in his novels (he has published nine to date – BREWER'S ODYSSEY being his latest), but also in his short stories and articles in The Scream Online (an arts publication for those who have yet to discover it), and in plays. Corrigan is a director as well as a playwright for San Francisco's Playwrights Theater and the Pacific Theatre Ensemble in Los Angeles. And as if that weren't enough to crowd the hours of the days and nights Corrigan is also involved in screen writing after attending the American Film Institute, has been a teacher of English and speech communications, and has embraced folk-blues as an acoustic guitar performer. Credentials for writing this newest novel are fully in place.
One would almost suspect with Corrigan's keen sense of humor and place and take on history that he would get around to writing a mystery novel and sure enough BREWER'S ODYSSEY is precisely that - and more. That wily sense of parody and humor is always in place. His first chapter hints at the bizarre tale that is to follow – 'Thomas Brewer has done this before, moving like a pinball through a surreal nightmare only to awaken in a different physical place. In this dream, he is drowning in a natural rectangular pool until a dolphin pushes him toward the lighted surface onto a board. Then Brewer lies in a fishing boat at sea, an old man watching a topless woman with seal-like skin pulled up around her waist and legs breathes into his mouth, bringing an ocean scent. Something warm fills his brain. With a gasp, Brewer wakes up on the floor ten feet from his hotel bed. Feeling groggy, Brewer slowly dresses and packs. On the nightstand, a photo of Brewer's late wife, Ruth – astride a white horse – looks back at him. In his mind he hears Ruth's voice: "My God, Tommy, these nightmares will destroy you." He will pack her photo last.'
That is the flavor and a slice of the skill Corrigan shares. As the author's synopsis shares, ` Popular thriller writer, Thomas Brewer, 40, finds himself in a plot not unlike his Gothic novels. A nightmare predicts a terrorist attack, and when it happens and Brewer survives, his assumed psychic abilities draw the interest of a CIA agent, Jeffrey Peterson. When Harriet Miller, Brewer's English-African agent and former lover, is indirectly linked to a terrorist plot involving the Vatican, Brewer inadvertently implicates the Middle-Eastern father of Harriet Miller's infant daughter. The subsequent revenge brings tragic results. Dr. Susan Fredericks, a neurologist and the object of Brewer's desire, reveals his living nightmares suggest another condition: REM Sleep Behavior Disorder that can lead to dementia. Brewer might have little time left for love or writing before paranoia and hallucinations destroy him leaving unanswered questions: did he really confront the ghost of Daphne du Maurier, and just who is that mysterious black girl haunting his dreams? Brewer's personal nemesis is a yellow haired ruthless politician. On an Aran island called Inishmore full of magical spirits of a different sort, Thomas Brewer might find salvation and see a healing light for the first time.'
Writing of this skill and character reminds us of the writing of major Irish writers such as James Joyce, Brendan Behan, Colm Tóibín, and Brian Friel among others. With BREWER'S ODYSSEY it is assured that Michael Corrigan's time has come.
Editor's note: This review has been published with the permission of Grady Harp. Like what you read? Subscribe to the SFRB's free daily email notice so you can be up-to-date on our latest articles. Scroll up this page to the sign-up field on your right.