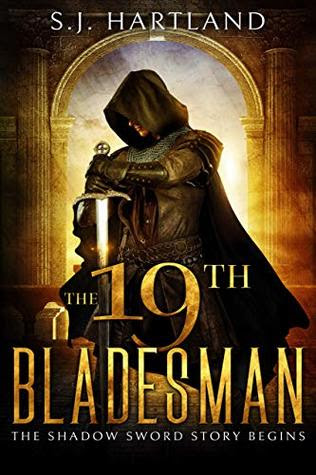 "The ancient lords did not build this fortress to accommodate a queen.'
Australian author S.J. Hartland is a journalist, former AAP finance editor and foil fencer with a fascination for obscure castles and is obsessed with anything medieval. THE 19th BLADESMAN is the first novel in her Shadow Sword series and her literary debut.
Capturing the flavor and the reader's attention in the opening paragraphs is quite necessary in epic fantasies: charge into another time and realm and yet make the characters involved people about whom we care. Hartland manages this challenge with aplomb – 'Archers tugged bowstrings back to their ears. Warriors drew swords in a clatter of iron as they ringed armed riders protecting the woman who had vowed to take this land by storm. Every bowman, every bladesman looked to their lord on the castle walk, willing his hand to fall. So tempting to drop his arm. So easy to snatch up his sword and unleash the rage carefully shackled within. Slaughter her guards, take her captive—and call it duty. But a heartbeat before seizing the blade at his hip, Vraymorg reined in his yearning. Unseemly for a lord, self-indulgent even, to desire bloodshed. Embrace it. But anger filled the hollow place within and he feared who he was without it. "Well, where is he?" A rider at the woman's side shouted up at the guard walk. Wind whipped auburn hair across a surly, young face Vraymorg at once disliked. "Where is this fiendish bladesman whose deeds maudlin poets spin into legend, this terrible lord of the abyss? Cowering in the shadows? Show yourself, Vraymorg." Vraymorg. Yes, they called him that. But it was just a name to hide his secrets. They called him lord, too. Lord of these mountains where wind brawled with frosted grass and a bleak sky curved to a rusted horizon. Lord of this gaunt, grey, iron-gated castle. Its lord? An ugly laugh soured his throat. No. Its prisoner—though the nauseating poets, the singers wandering from hall to hall with their crystal voices did not know it. A captive of wretched duty, of shame who belonged in this dismal, repellent fortress.'
Hartland offers a terse synopsis of the complex plot that will serve the reader well as the series expands: 'His duty is to die young, but fate has something far more lethal in mind. If Kaell breaks, the kingdom breaks with him. And prophecy says the 19th Bladesman will break ...The Bonded Warrior …Kill. Die young. That's what a swordsman bonded to the ancient gods does. Without expecting praise from the man who trained him to survive this centuries-old, malignant war against the inhuman followers of an invincible lord. But Kaell wants more. More of Val Arques' attention, his approval. Just more. The fire dancer …Ice lord, spy, Heath never loses a fire dance. Yet he longs to know that thrill of danger down his spine as he kills for his god, to fight a warrior who might, just might be better than him. The broken …Val Arques is a bladesman of formidable power entrusted not only with Kaell's life but with the truth that will destroy him. Banished to a grim outpost of this doomed kingdom of sorcery, poetry and treachery, he cannot afford to care about the young warrior. For love means loss. And Val Arques has a shameful secret ...A kingdom on the edge of chaos …As a vengeful god escapes his ancient prison and Kaell is drawn into his web of deception, even Val Arques can't protect him from the dark prophecy awaiting him. Because you can't flee fate unless you're willing to do the unthinkable. Duty and love collide in this powerful epic fantasy about shattering loss, betrayal and the price of power.'
The book is long but the action is so rapid fire that the pages fly. S.J. Hartland has a solid beginning to what appears to be a successful series.
Editor's note: This review has been published with the permission of Grady Harp. Like what you read? Subscribe to the SFRB's free daily email notice so you can be up-to-date on our latest articles. Scroll up this page to the sign-up field on your right.