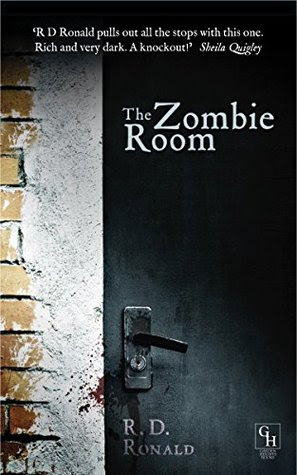 'There is no justice,' Mangle said. 'Only victims.'
British author R.D. Ronald made his literary debut with THE ELEPHANT TREE written in 2010. He has since published THE ZOMBIE ROOM in 2016. Ronald describes himself as a "transgressive novelist" – 'A genre of literature that focuses on characters who feel confined by the norms and expectations of society and who break free of those confines in unusual or illicit ways. Because they are rebelling against the basic norms of society, protagonists of transgressive fiction may seem mentally ill, anti-social or nihilistic.' Of interest, R.D. share he has served prison time for growing cannabis and it was while he was imprisoned that he began writing his novels.
Ronald's textured writing is one of the several reasons his novels work so well. He understands the importance of a novel's opening and we find evidence of that in his moody Prologue – 'They were beautiful, the girls in the pink and turquoise string bikinis, Mangle couldn't deny that. But in a strip club with a room of equally attractive women there was another reason why they caught his eye. The other women stalked the room, they owned it. They were the ones preying on the customers. But these two girls being dragged roughly out from a back room didn't belong here any more than he did. There was no confidence in their movements, or their eyes, he could see that even across the darkened room. These women were someone else's prey. Mangle tried to ignore them, after all this was supposed to be a night out with his best friends Tazeem and Decker, but something in the back of his mind just wouldn't let it go. One song changed to another and a new dancer strutted out onto the stage. What was it about those girls, had he seen them somewhere before? Tazeem ordered a fresh round of drinks and Decker's eyes glazed over as he watched the hypnotic movements of the girl on stage. Mangle couldn't blame him. Decker had been in prison so long he must almost have forgotten what a naked woman looked like. Mangle's hand curled lightly into a fist and he bounced it against his knee as he thought. What was it about those girls? He looked back across the room and the girl in the turquoise bikini caught his eye. And then he knew exactly who she was. And he knew that he had to save her.'
And the wind sweeps in and the plot is offered in distilled fashion: 'An unlikely bond is forged between three men from very different backgrounds when they serve time together in prison. A series of wrong turns and disastrous life choices has led to their incarceration. Following their release, Mangle, Decker and Tazeem stick together as they return to a life of crime, embarking on a lucrative scam. But when they stumble upon a sophisticated sex-trafficking operation, they soon realise that they are in mortal danger. The disappearance of a family member and the murder of a dear friend lead the three to delve deeper into a world of violence and deception. In their quest for retribution and justice, they put their lives on the line. Their paths cross with that of Tatiana, who has left her home country for a better life in the West - or so she thinks. She soon realises she is in the hands of ruthless, violent people, who run an operation supplying girls to meet the most deviant desires of rich and powerful men. Will she survive the horrors of The Zombie Room? Are Mangle, Decker and Tazeem brave enough to follow her there, in an attempt to set her free?'
The unique aspect of RD Ronald's books is the manner in which he subtly draws us into a situation and story that in other authors' hands would not seem as directly witnessed. This is a visceral story, well scribed by an author who continues to grow in importance.
Editor's note: This review has been published with the permission of Grady Harp. Like what you read? Subscribe to the SFRB's free daily email notice so you can be up-to-date on our latest articles. Scroll up this page to the sign-up field on your right.