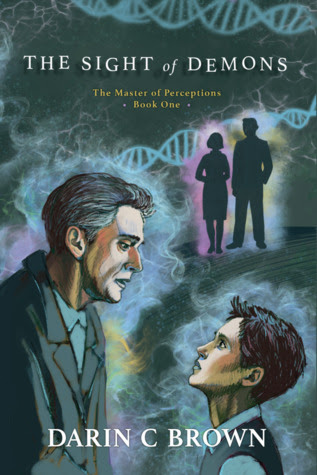 'While he speaks, I struggle against the demons, overwhelmed by my internal battle.'
New Hampshire author Darin C. Brown earned a bachelor degree in engineering physics, a master's degree in biomedical engineering from Cornell, and a PhD in biophysics from the University of Illinois. He has been an ER doctor, but now devotes his time to writing, acting, and directing theater as well as to an active and honored sports life.
Darin makes his debut with volume one of The Master of Perceptions series. If THE SIGHT OF DEMONS is indicative of the depth of character development and the unique line of story we can expect in subsequent books, then it is all the more important to read this volume carefully.
The primary character of this story is an autistic child, Hunter Miller, who sees demons that no one else can see. In the moving Prologue Darin describes the visions – 'The gigantic blue demon swims around me, engulfing my entire body with its long tentacles. Other demons of varying colors sparkle beyond, but the horrifying blue apparition occupies all my attention. I open my eyes, hoping the sights of the everyday world will make it go away, but it still slithers around me, unwilling to loosen its grip. In a panic, I jump back into the nothingness, certain I'm fortunate to escape with my life… I keep my eyes closed, but it doesn't help. They're here. I still see the sparkling colors. My empty hands feel textures. I smell odors and taste flavors even though my mouth is empty. I can't stop any of it. If I open my eyes, the sensations superimpose themselves on the sights all around me. The demons. They're out to get me. But I never let them; as soon as they get close enough, I retreat inside myself, where they can't follow. Safety awaits me in the emptiness, and I go there whenever the fear grips me. I visit this world— the one outside myself— infrequently, because the demons are always there, ready to pounce. They bombard me with their myriad of unwanted sensations. Falling off into my own private universe happens automatically.'
While some would discard this 'gift' as part of a mental disarrangement, Darin makes the demons represent the challenges facing an autistic child and how Hunter grapples with what he perceives as real he gradually learns to accept them as particular abilities. The manner in which this occurs is not only a credible story but also a flag to readers to reconsider the mind of autistic children – or even a study of how childhood trauma affects the mental development of many children today. Exceptionally well written, this book makes us eager for the next volume to appear. Highly Recommended on many levels.
Editor's note: This review has been published with the permission of Grady Harp. Like what you read? Subscribe to the SFRB's free daily email notice so you can be up-to-date on our latest articles. Scroll up this page to the sign-up field on your right.