He needs a temporary girlfriend and she needs a temporary place to stay. What they both get is so much more.
I love a good small town romance when I get to meet and feel like I'm part of the community along with the characters. Ms. Score did a good job of expanding the story beyond the lives of Luke and Harper. It was a nice start to what I hope becomes at least a trilogy since I NEED to see both Linc and James' stories. Linc may be Luke's nemesis but he's a hot fireman who never really does anything bad in this story and therefore he needs his own HEA.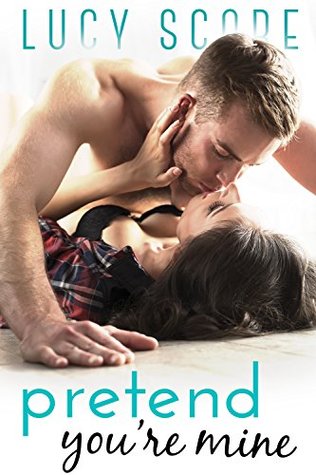 Speaking of Luke, bless him, the tragic back story that slowly unfolds broke my heart. He has a real personal issue with not having control over situations and his own emotions and I think it took a free spirit like Harper to show him that it's okay to not always be in control. Life is going to happen one day at time, full of surprises good and bad, regardless of how we try to control the outcomes. I liked that the author didn't minimize his past and how she brought pieces of the past and present together to heal both Luke and others involved.
I like Harper a lot. Like Luke, she had a not great history but her outlook, and her decision to not let it rule her life made her a stronger person than she first appears. Luke thinks she's flighty and needs a keeper but Harper proves that push come to shove, she might get knocked down but that doesn't mean she's out. She mourns temporarily for what was and she keeps moving. In the end, she teaches Luke how to live again, love again, and accept being loved. Along the way she builds the life she always dreamed of and finds the family she never had. There's two different foster care elements to this story that totally won me over for the realistic way they were handled.
I've seen some reviews that hated Luke's grand gesture towards the end saying that it made Harper look like a weak damsel. I disagree. What Luke did was as much for himself as it was for Harper. It was his first step towards the future he finally realized he could have if he could reconcile the past. He was pretty harsh when he pushed Harper away but I chalk that up to being scared because he didn't think he deserved to be happy. If I had one crit about the story it was how vocally as well as internally adamant he was that he could never and would never love again. It was practically a mantra by the end of the book and I was like "okay, I get it, you're scared" because that was honestly the bottom line.
While Luke's words say no, his actions towards Harper say yes loud and clear. Their sexual chemistry, once he stops fighting it, was on an explosive level! I had to laugh at one review that complained that they don't even have sex until about a third of the way in. That's good, the author wisely used that time to build up the tension. They tease each other with looks, words and touches. When Luke goes all caveman on her after seeing her in Linc's arms, I cheered because I knew, there was no way he could hold out now. It was awesome!
I did something with this story that I rarely do. When I finished reading it, I started reading it again. I loved this story that much. I truly hope Ms. Score decides to expand this book into a series, even a short one so I can revisit with Harper and Luke but mainly so I can see how Linc and James find love in Benevolence. Ms. Score has another small town series that's calling my name and if it's as good as Pretend You're Mine, I know I'll be hooked. This book is for readers who love a hot romance with a dash of intrigue.





Editor's note:
This article was originally published at Long and Short Reviews. It has been republished with permission. Like what you read? Subscribe to the
SFRB's free daily email notice so you can be up-to-date on our latest articles. Scroll up this page to the sign-up field on your right.