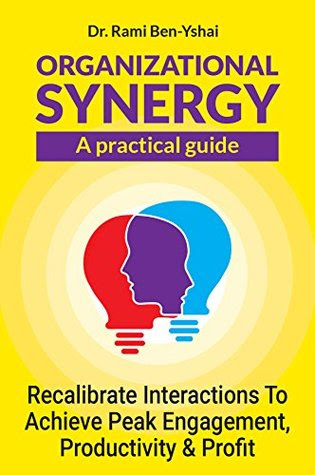 Synergy – how to improve collaboration and productivity
Israeli author Dr. Rami Ben-Yshai has assisted dozens of organizations and projects to successfully complete processes of change, create synergy in mergers and acquisitions, improve managerial and employee interactions within the organization, and enhance levels of satisfaction among clients, suppliers, between HQ and field units, and more. Rami's vision is to create a more tolerant, happier and productive working places and environments.
Rami's book is about interaction at the workplace, but his ideas and teachings could easily step out of the corporate centers and into the milieu of how we all interact as individuals and groups. He summarizes the content of the book well in his Introductory comments – 'If developing your organization and maintaining its leading status are important to you, and you want to ensure that your organization operates on the basis of quality interactions in general, and synergistic interactions specifically, then this book is right for you. How can organizational synergy help your organization? By promoting improved organizational outputs, optimizing mergers or acquisitions, successfully assimilating new and innovative technologies, and developing a range of products and services with relative ease. Simultaneously, you'll see levels of motivation and gratification among employees increase, and the sense of belonging and connection between managers and employees to their workplace will strengthen. Synergy occurs when diversity exists, but interpersonal differences deter us from opening up to one another. Our tendency to prefer working with people who are similar to ourselves is one of the reasons that synergy is so hard to create. This book presents a unique perception and method based on a platform of concepts which define it; a model delineating seven forms of interactions; and work tools that allow examining and improving the connection between the organization's diverse forces and resources. You'll find explanations, graphs, examples, a questionnaire for mapping forms of interaction, and pages where you can practice the method. My hope is that taken together, these tools will help you learn the method and acquire the skills that will help you avoid negative interactive forms while reinforcing positive ones, as you take the steps towards your ultimate goal: assimilating synergy in your organization.'
Terms and changes in approach are defined well – organizational synergy – 'Organizational synergy is the way interactions occur within an organization or between different organizations which allows creating a new reality by several partners, where one party is unable (or finds it too difficult) to create that same reality alone due to economic or other considerations.'
Rami divides his book into chapters – How to achieve more: diving into the concept of synergy; Synergy perception in depth – the 7 forms of interaction model How to successfully embed the synergy process, and Synergy or wasted energy: rules and tips for improving interactions.
"The synergy method acknowledges the value of diversity and encourages its expression by recognizing the importance of uniformity and uniqueness.' An important and valuable book about synergy – both as a business skill an as an interpersonal skill after leaving the office!
Editor's note: This review has been published with the permission of Grady Harp. Like what you read? Subscribe to the SFRB's free daily email notice so you can be up-to-date on our latest articles. Scroll up this page to the sign-up field on your right.